NAIROBI, Kenya (CNN) -- Somalia-based pirates on Tuesday released a Turkish-flagged ship carrying 4,500 tons of chemicals that was seized two months ago off Yemen's coast, the International Maritime Bureau told CNN.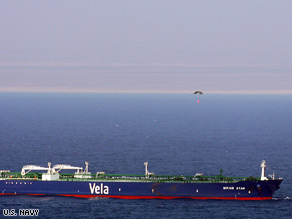 A parachute floats down to the Sirius Star after being dropped by a small aircraft on Friday.
The Karagol was hijacked on November 12 near Yemen as it traveled to Mumbai, India, according to Turkish media reports. The vessel, which is owned by an Istanbul-based company, had 14 crew members on board.
The crew was safe, and the vessel was en route to India with the chemicals, said IMB spokesman Cyrus Mody.
Pirates also released the African Sanderling on Monday, Mody said. That ship was reportedly seized in mid-October. Mody had no further details.
Hijackings off East Africa have been a cause of growing international concern, spurring a number of international navies to patrol the pirate-wracked Gulf of Aden. Most of the attacks are blamed on pirates based in a largely lawless Somalia. See how pirate attacks peaked in 2008 »
The Gulf of Aden links the Indian Ocean and the Red Sea. About 20,000 oil tankers, freighters and merchant vessels pass along the crucial shipping route near Somalia -- a country racked by poverty and conflict -- each year.
The financial and human costs of piracy are extensive. Ships ranging from luxury yachts to a Saudi supertanker have been held for ransom.
Don't Miss
The Saudi-owned Sirius Star, the largest ship ever hijacked by pirates, was let go Saturday after being held off the coast of Somalia for two months. Watch CNN interview with a pirate

The Kenya Seafarers Association said the Sirius Star's 23-man crew -- which included citizens of Croatia, Great Britain, the Philippines, Poland and Saudi Arabia -- was in "good health and high spirits" after the release.
A $3.5 million ransom payment -- down from the initial demand of $25 million -- was dropped by parachute onto the oil supertanker on Friday, but the pirates delayed release of the vessel after five of their group drowned while departing in a skiff. Read blog on how CNN contacted a pirate
The ship is a VLCC, or "very large crude carrier," and more than three times the tonnage of a U.S. Navy aircraft carrier, the U.S. 5th Fleet said.
The vessel's capture on November 15 sparked fears for its enormous cargo. The ship was carrying 2 million barrels of crude oil worth about $100 million when it was captured.

According to the United Nations, there were 115 reported pirate attacks off the Somali coast in 2008, including 46 successful hijackings.
At least one major company pulled its ships from the Gulf of Aden region in 2008, meaning cargo bound for Europe had to round the African continent rather than use the Suez Canal.
E-mail to a friend

CNN's David McKenzie contributed to this report.
All About Gulf of Aden • Somalia