HARARE, Zimbabwe (CNN) -- A top Zimbabwean human rights activist facing charges of recruiting people for insurgency training and terrorist bombings is a "threat to society" and must remain in custody, the country's attorney general said.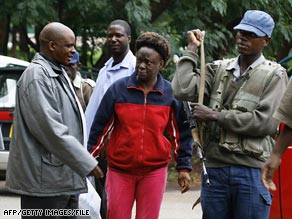 Activist Jestina Mukoko arrives at court in Harare, Zimbabwe, last month.
The activist, Zimbabwe Peace Project director Jestina Mukoko, is behind bars with eight other activists, mainly from the opposition party Movement for Democratic Change. They have been jailed on remand for allegedly recruiting people for banditry training in Botswana.
Seven others are also in jail, accused of bombing police stations in Harare and a railway line in the town of Norton.
"Evidence proves that she (Mukoko) is a threat to society and she should not be released now," Attorney General Johannes Tomana told reporters, in comments printed Wednesday in the state-owned newspaper The Herald. "Any attorney general in the world would do what I am doing, given a case like the one involving Mukoko and others."
Tomana added: "My office has no reason to 'fix' her as has been peddled in the foreign press."
Mukoko was seized early December 3 from her home in Norton, some 40 kilometers (25 miles) southwest of Harare. She was missing for three weeks and police said they were treating the matter as a kidnapping.
Mukoko reappeared December 24 when she was brought to court on charges of recruiting or training for banditry.
That same day, other MDC activists missing since October -- including a two-year-old -- were also brought to court, facing similar charges.
Don't Miss
The activists deny the charges and claim they have been tortured during their detention.
Zimbabwe Chief Justice Godfrey Chidyausiku is expected before the end of this week to rule make a decision on when the trial will be held.
Defense lawyers have asked for a trial as soon as possible, but a lawyer for the attorney general says the earliest a trial can start is May.
Mukoko and the other suspects say they were improperly charged. They argue that they were kidnapped and eventually forced to admit to trying to topple President Robert Mugabe's government.
Banditry is a charge that carries a death sentence in Zimbabwe.
Women of Zimbabwe Arise director Jenni Williams said the attorney general, who was appointed by Mugabe last month, is a government sympathizer.
"He is now following the political dictates and not following the law," Williams said Wednesday. "His utterances go to confirm that all human rights defenders are treated as criminals and not as activists. What he said does not conform with the international law that a person is innocent until proven guilty."
The abduction and subsequent treatment of the activists has led MDC leader Morgan Tsvangirai to threaten to pull out of the power-sharing deal he signed with Mugabe in September 2008.
The power-sharing deal, which would keep Mugabe as the president while Tsvangirai becomes prime minister, follows a hotly disputed presidential run-off in June which was marred by more than 200 deaths.
Meanwhile, Zimbabwe's worst humanitarian and economic crisis since its independence from Great Britain in 1980 rages on, with a cholera epidemic that has claimed nearly 2,000 lives since August. Mugabe's government has declared the cholera epidemic a national emergency and called on international organizations for help.
The U.N. says more than 5 million people are in dire need of food aid in a country that is facing acute shortages of essential items, ranging from fuel and electricity to cash and food. And those acute shortages, say economists, account for Zimbabwe's fast-dropping currency. The country is grappling with the world's highest inflation rate, officially estimated at 231 million percent.
Mugabe's critics blame his economic policies for the crisis, but he accuses western nations of sabotaging the country's economy through sanctions.
E-mail to a friend

All About Zimbabwe • Robert Mugabe • Morgan Tsvangirai