By CNN's Terence Burke





UNITED NATIONS (CNN) -- The United Nations Security Council unanimously adopted a resolution Friday expressing its intent to, eventually, send U.N. peacekeeping forces back to the fractured, unstable nation of Somalia.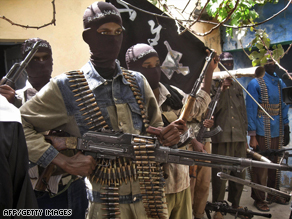 Islamist insurgents display their weaponry Friday in Mogadishu during a parade.
The resolution was sponsored by the U.S., in one of the final Bush Administration initiatives at the United Nations.
The passage of the resolution follows the exit of a U.N.-backed, Ethiopian peacekeeping force that completed a two-year deployment in Somalia Thursday.
There is wide-spread concern among diplomats and regional leaders in the Horn of Africa that, with the withdrawal of Ethiopian forces, a power vacuum will be filled in Somalia by regional Islamic extremist groups, some with links to al-Qaeda.
The U.N. resolution sets forth a process that aims to bring stability and sovereignty to Somalia, which has been racked by violence and lawlessness since the government was overthrown in 1991.
First, the resolution expresses renewed support that an African Union force currently deployed in Somalia -- known as AMISOM -- remains on the ground. The A.U. contingent is currently comprised of 2,600 troops. The U.N. resolution calls on the African Union to strengthen those levels to 8,000.
Don't Miss
The resolution then requests that U.N. Secretary-General, Ban Ki-Moon, submit a report by April 15, 2009 updating the situation in Somalia, and it asks that he develop the mandate for a U.N. peacekeeping force.
Finally, a decision on U.N. peacekeeping is requested by June 1, 2009.
However, the process is off to a rocky start. Last month, Ban said that requests to U.N. member nations for peacekeeping forces for Somalia were received negatively.
Also, throughout, one of the key players in the Somalia decisions will likely be Susan Rice, President-Elect Obama's nominee for new U.S.- U.N. Ambassador, and a specialist on African issues.
At her confirmation hearing before the Senate Foreign Relations Committee in Washington on Thursday, Rice told senators that she is "skeptical about the wisdom of a United Nations peacekeeping force in Somalia at this time."
E-mail to a friend

All About Somalia