(CNN) -- Congolese rebel leader Laurent Nkunda was arrested by Rwandan authorities early Friday, a development that raised hopes for peace in the war-ravaged country, representatives from both countries said.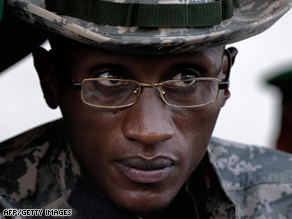 Laurent Nkunda, seen here last November, was reportedly arrested in Rwanda.
Congolese forces first tried to capture the Tutsi rebel leader late Thursday evening near Bunagana, a village in eastern Congo.
Rwandan authorities then captured Nkunda around 2 a.m. Friday, Omalanga added.
The two countries were discussing efforts to extradite Nkunda back to the Congo.
"We think this is a major development in the peace process," said Madnodje Mounoubai, a spokesman for the U.N. Mission in the Democratic Republic of Congo.

Hear how Nkunda tried to flee capture »
The arrest could cause the estimated 1,500 rebel soldiers still loyal to Nkunda to join government forces and put a halt to most of the fighting in eastern Congo, said Mounoubai.
"It is also amazing that the two governments are working together," Mounoubai said.
Rwanda and Congo traditionally have been on different sides of the ongoing conflict in eastern Congo, which pits ethnic Tutsis supported by Rwanda against Congo-backed ethnic Hutus.
The war is effectively an extension of the Rwandan genocide of the early 1990s, when hundreds of thousands of Rwandans were killed in ethnic battles between minority Tutsi and majority Hutu.
Don't Miss
Renewed fighting broke out in eastern Congo at the end of August between rebels under the command of Nkunda and government forces. At the time, Nkunda said his forces were fighting to defend Congolese Tutsis from Hutu militants who escaped to Congo.
Nkunda declared a unilateral cease-fire on October 29, but it failed to stop the fighting and reports of atrocities.
The fighting in the area in the province of North Kivu in eastern Congo, has displaced more than 250,000 people since August, the United Nations reported.

See photos from Mia Farrow's trip to the Democratic Republic of Congo »
A scathing report by a U.N. Security Council panel last month said that Rwanda and Congo are, in effect, fighting a brutal proxy war for territory and precious natural resources in eastern Congo, and all parties involved in the conflict are using execution, rape and child soldiers as tools of war.
The report "found evidence that Rwandan authorities have sent officers and units of the Rwanda Defense Forces" into Congo in support of Congo rebel leader Laurent Nkunda's fighters.
Francois Grignon of the International Crisis Group said it may still be hard to quell violence even after Nkunda's arrest.

"Laurent Nkunda had developed a parallel administration in North Kivu, so it might be a challenge to push the remaining members of (Nkunda's forces) to join with the Congolese army and give up that power," said Grignon, whose organization has studied the conflict.
"But it is indeed a major development and a major breakthrough."
E-mail to a friend

-- CNN's David McKenzie in Nairobi and David Ariosto contributed to this report
All About Democratic Republic of the Congo • Laurent Nkunda • African Politics