(CNN) -- After two days of violence and looting that claimed the lives of more than 30 people in Madagascar, relative calm has settled over the Indian Ocean island nation. But the possibility of further violence loomed as anti-government protesters gathered in a central square, vowing future demonstrations.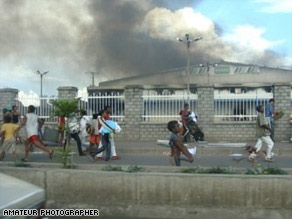 At least 34 people were killed during the riots that broke out in Madagascar.
President Marc Ravalomanana and other senior government officials surveyed some of the damage Wednesday and vowed to restore order "whatever the cost," a government statement said. Ravalomanana ordered a member of his joint chiefs of staff to work with the protesters and opposition leader Andry Rajoelina to maintain the calm.
The violence began when protesters stormed the government's radio and television station in the capital Antananarivo on Monday morning in response to the president shutting down Rajoelina's radio station hours earlier.
A Red Cross official, who declined to be named, said at least 34 people have been killed in the violence since Monday. By Wednesday, a relative calm had fallen over the area and Rajoelina's rally at the square was peaceful, a Western observer told CNN.
Meanwhile, Rajoelina -- mayor of Antananarivo -- addressed protesters at a downtown rally Wednesday afternoon, calling for two days of general strikes and another mass demonstration Saturday. The strikes would prevent stores and schools from opening.
Madagascar authorities on Tuesday tried to control protesters who set fire to the state-run media complex the day before. Ravalomanana said he initially held off on ordering troops to fight off looters, saying he wanted to avoid more casualties.
"It is better that equipment be destroyed rather than human lives," he said in the statement, adding that looters would not be prosecuted because he "understands the Malagasy people are poor and hungry."
The president's move to shutter the radio station came just weeks after the closing of Rajoelina's television station following the airing of an interview with ousted ex-President Didier Ratsiraka.
Rajoelina's Viva Radio was back on the air Tuesday as the protesters broadened their focus from restoring freedom of speech to targeting businesses owned by Ravalomanana, including food distribution centers, according to an American community worker in Antananarivo.
By Tuesday afternoon, some of the protesters had broken from the group, looting private electronic shops and grocery stores that sat alongside the Ravalomanana-owned buildings, Christi Turner said.
"Today and yesterday, it's been a collective disappointment and shock and sadness for me and my friends and other aid workers," Turner told CNN on Tuesday night. "People have lost their heads in the mob mentality."
She added that the government "is not taking the most effective steps controlling the situation," noting that military and police didn't publicly address the looters until Tuesday.

Rodney Ford, public affairs officer at the U.S. Embassy in Antananarivo, said the United States was pushing for dialogue between the president and the mayor. Both sides have offered to negotiate, which a group of ambassadors was working toward.
"We are worried about the loss of life," Ford said. "The Malagasy people need to work this out, it's not an issue outsiders can fix. The U.S. Embassy is calling for calm and restraint. We are working to mediate within both parties."
E-mail to a friend

All About Madagascar