HARARE, Zimbabwe (CNN) -- Zimbabwe's main opposition party said Friday it will join a unity government next month if President Robert Mugabe's government meets its demands.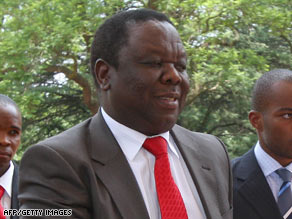 Zimbabwe opposition leader Morgan Tsvangirai arrives for talks on Zimbabwe this week in Pretoria, South Africa.
The development came after the top leadership of the Movement for Democratic Change, or MDC, met in the capital, Harare, to discuss the idea.
Mugabe and MDC leader Morgan Tsvangirai signed a unity accord in September, but the pact hasn't gotten off the ground. The two men have disputed the distribution of key Cabinet ministries, provincial governors, diplomatic posts and the control of security forces.
"Cognizant of the poverty and suffering of the people of Zimbabwe ... the party has resolved to reinstate its commitment to the inclusive government," Tsvangirai said after the meeting Friday. "The party has resolved that there has to be a settlement and agreement to the outstanding issues."
He said the MDC will write a letter to regional heads of state stating the party's position on the "equitable and fair distribution of ministerial portfolios" and requesting a resolution before February 11.
There was no immediate response from the Zimbabwean government.
The MDC issued several demands, including that all "abductees" -- opposition supporters, democracy activists and others arrested in recent months -- are released unconditionally before February 11, Tsvangirai said.
Don't Miss
Tsvangirai also said he wants the constitution changed to create the post of prime minister before the February date. Tsvangirai would hold that position in a unity government.
The regional heads of state, as part of the Southern African Development Community, had set February 11 as the date by which Tsvangirai should be sworn in as prime minister.
"We hope that the MDC will be respected as an equal partner to resolve the poverty and suffering of the people of Zimbabwe and hope that the country can have hope for the future," Tsvangirai said.
It has been 10 months since Zimbabwe held a presidential election that saw Tsvangirai challenging Mugabe's 28-year grip on power.
Tsvangirai won the most votes in the March 29 ballot but not enough to avoid a runoff, according to the government's official count. Mugabe then won a June 27 runoff, but only after Tsvangirai withdrew, accusing Mugabe supporters of intimidation, murder and violence.
The international community viewed the runoff as a sham.
Many observers see a coalition government as a panacea to halt the meltdown of Zimbabwe's economy. The country also is facing its worst humanitarian crisis, with acute shortages of essentials such as fuel, food, electricity and public health delivery system.
The United Nations has said more than half the population is in need of food aid.
A cholera epidemic that broke out in August has claimed more than 3,100 lives and infected more than 60,000, the World Health Organization said Friday.
E-mail to a friend

All About Zimbabwe • Robert Mugabe • Morgan Tsvangirai