By Christian Purefoy
CNN






ABUJA, Nigeria (CNN) -- The small room captured the smells from the wild assortment of herbs, barks and powders scattered in bags at the feet of the local medicine man.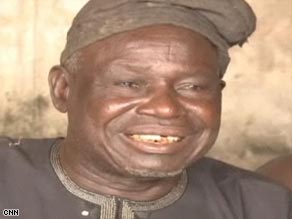 Nigerian herbal healer Baba Chukuri claims to cure diseases like AIDS.
Using the little available light, Baba Chukuri mixed together half a-cup of water, several crushed roots, and passed it to a woman who had come to him for medical treatment.
She drank the mixture and cringed at the bitter taste.
Baba Chukuri is one of many traditional healers across Nigeria offering treatments to hundreds of people daily for a variety of illnesses.
Many of these illnesses include scientifically incurable diseases like AIDS.
"My grandfather was a hunter," he explains, "we used to collect herbs together and he would show me how to make the recipes."
There is no scientific basis to Chukuri's claims but speaking in his Hausa language, he explained how he charges less money than hospitals, so local people can afford him.
"But also people trust me because they see my medicine works," he says.

Watch Baba Chukuri talking about his medicine »
Seventy percent of Nigeria's population live on less than a dollar a day, forcing many people to come to local healers like Chukuri for affordable treatment.
Vital Signs
Each month CNN's Dr. Sanjay Gupta brings viewers health stories from around the world.


But with the second highest number of AIDS cases in the world, "bogus" cures for diseases like AIDS are also big business in Nigeria.
However, Nigeria's Institute for Pharmaceutical Research and Development -- or NIPRD -- are now testing Chukuri's, and other healers, claims.
Dr Yemi Kunle from NIPRD's department of Traditional Medicine believes traditional healers can become allies in the fight against AIDS and other diseases.
"They work with a variety of medicinal plants and these plants serve as leads when we want to develop new products in orthodox medicine," the young doctor explains.
Dr Kunle and NIPRD are testing hundreds of roots and herbs used in traditional medicine from across Nigeria.
NIPRD have developed a sickle cell treatment -- NICOSAN -- in 2000, and earlier this year released a treatment for diabetes.
In their modern labs and herbal gardens they are now working on a variety of treatments for tuberculosis, malaria, and immune boosters against AIDS.
"On HIV, we've screened over 100 medicinal plants, out of which 10, 12, have seen a great deal of activity as anti-viral agent," explained Dr Uford Inyang -- NIPRD's jovial Director General.
Inyang believes the global herbal market to be worth up to $5 billion. If any of the treatments are found to work, the local healers can receive up to 10 percent of the profits in royalties.

None of Chukuri's treatments have yet been scientifically proven to work.
But claiming over a hundred year's of healing tradition in his family, scientists hope the elderly man and his experience will help lead them through the thousands of possible herbal varieties in Nigeria -- to a possible cure.
E-mail to a friend

All About Nigeria • HIV and AIDS