(CNN) -- Hours after newly elected Somalian President Sheikh Sharif Sheekh Ahmed arrived in the country's capital, mortars were fired Saturday at his presidential palace, according to a journalist who witnessed the incident.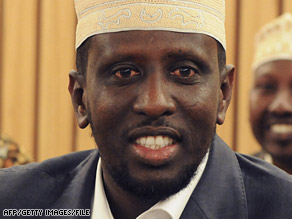 Sharif Sheikh Ahmed, Somalia's new president, answers questions at an African Union summit in Addis Ababa.
It was not immediately clear how many mortars were fired or whether anyone was injured in the attack on the presidential palace in Mogadishu, where Ahmed is staying, said journalist Hassan Hagi.
No group claimed responsibility, he said.
Earlier Saturday, the Somali Islamic party, an umbrella of three rebel Islamist groups, declared it would fight against Ahmed's government.
Ahmed, who was elected last week and voted in by parliament, made a surprise visit to Somalia Saturday after he returned from Djibouti.
The vote and swearing-in took place in Djibouti, northwest of Somalia, because the international community wanted to be present to observe the voting process and could not do so in Somalia for safety reasons.
Radical Islamic fighters Al-Shabaab, who have ties to al Qaeda, took over the Somali parliament building and the presidential palace in the town of Baidoa in late January, heightening security concerns.
After landing at the airport, Ahmed was escorted to the presidential palace in Mogadishu by forces from the transitional government, African Union peacekeepers and members from the Islamist group of Islamic Courts Union (ICU).
In a short address to journalists at the airport, Ahmed said he would talk to anyone who opposes his government.
"I will listen to all sides in Somalia, and dialogue is the only solution," Ahmed said.
Don't Miss
Several analysts who have studied the region say the new government is in a much stronger position to establish itself inside Somalia and restore order to a country that has been mired in chaos for the past two decades.

See a timeline of recent events in Somalia »
"The ascendancy of Sheikh Sharif provides an opportunity to create an inclusive coalition governing from the center outwards," said John Prendergast, co-chairman of the Enough Project, who studies the Horn of Africa for the Center for American Progress think tank.
Ahmed now stands at a crossroads between quelling the militia and including more moderates in his future government, Prendergast said.
"The fulcrum for change is in the hands of Sheikh Sharif's government," he said. "If he is able to put together an inclusive government -- even if it's only on paper, even if it's only in Djibouti -- I think it will quickly defuse any fervor of support for Shabaab."

See a list of Somalia's key players »
Al-Shabaab fighters took control of Baidoa hours after Ethiopian forces withdrew under a June 2008 cease-fire deal. Rashid Abdi, a Somalia analyst for the International Crisis Group, said the loss of Baidoa is "a clear indication that the transitional federal government has lost any grip -- whatever grip it had -- in Somalia."

But Prendergast said the radical Islamist militia will most likely lose support among Somalis now that its "rallying cry" of getting the Ethiopian forces out of Somalia is gone.
"What the Islamists did was, they wrapped themselves up in the mantle of Somali nationalism and, for the last two years, they have hitched their star to throwing the Ethiopians out," he said.
E-mail to a friend

Journalist Mohammed Amiin Adow contributed to this report.