JOHANNESBURG, South Africa (CNN) -- South Africans will hold general elections on April 22, the president announced Tuesday in Parliament, setting the stage for a campaign that will see the leading contender running despite his pending legal problems.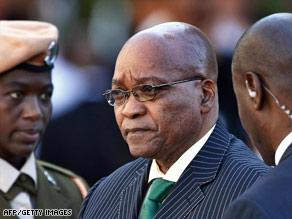 African National Congress leader Jacob Zuma maintains he is innocent of corruption charges.
Jacob Zuma, president of the powerful African National Congress, is widely expected to become the country's next president. He is scheduled to face corruption proceedings four months after the vote, an awkward situation should he win.
Zuma is accused of accepting bribes from a French arms company that won a contract in a controversial multibillion-dollar arms deal. Zuma also is facing charges of money laundering, racketeering and fraud.
The proceedings will begin August 25, the High Court announced last week.
Zuma has said he is innocent and has urged South Africans to cast their votes for the ANC in April. His supporters see Zuma as a victim of a political conspiracy designed to destroy his chances of becoming president.
Zuma has until May 18 to apply for a permanent stay of prosecution. If he does apply, arguments about that application will be heard August 25, the court said.
The pending trial and questions about Zuma's credibility could be fodder for opposition parties ahead of the vote, but some analysts said the opposition still will have a tough fight on its hands.
Don't Miss
With strong party loyalties in South Africa, analysts said even disgruntled ANC supporters are likely to give Zuma another chance.
Zuma defeated former South African President Thabo Mbeki for the party's top job in December 2007. Mbeki was sacked as the country's president in September after being accused of political meddling.
The move brought about a major change in South African politics. Mbeki's supporters broke away from the ANC and formed their own party, and ANC Deputy President Kgalema Motlanthe was sworn in as head of the country.
Motlanthe's interim term is set to last only until the election, and he likely will do the groundwork to help Zuma win. If Zuma were convicted, Motlanthe could take over as party president.
E-mail to a friend

CNN's Nkepile Mabuse contributed to this report.
All About Jacob Zuma • South Africa • African National Congress • Thabo Mbeki