HARARE, Zimbabwe (CNN) -- Zimbabwean opposition leader Morgan Tsvangirai has picked his party's secretary-general to hold the difficult and important post of finance minister, he said Tuesday.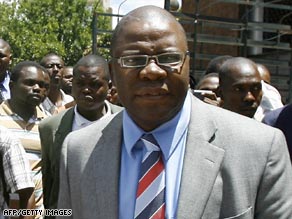 Tendai Biti will be in charge of fixing Zimbabwe's broken economy.
The announcement came as Tsvangirai announced which ministries his party will hold in a new unity government to be formed with President Robert Mugabe's ZANU-PF party this week.
Tendai Biti, secretary-general of the Movement for Democratic Change (MDC), a lawyer by profession, is not an expert in economics. He is, however, the strongest of the ministers chosen by Tsvangirai, which may explain why he was chosen to control the challenging portfolio.
Zimbabwe's economy has all but collapsed, with trade now mainly being conducted in U.S. dollars or South African rand.
Tsvangirai is expected to be sworn in as prime minister Wednesday in accordance with the power-sharing agreement signed last September.
The ruling ZANU-PF has been allocated 15 ministries and Tsvangirai's MDC has been given 13.
In addition to finance, the MDC will be in charge of constitutional and parliamentary affairs; public works; and water resources and management. The latter two are key areas amid Zimbabwe's cholera epidemic, which has been exacerbated by poor water lines and sanitation throughout the country.
The party will also have six deputy ministers in defense, agriculture, foreign affairs, justice, women affairs, and local government.
The MDC and Mugabe's ZANU-PF will jointly head the ministry of home affairs, which oversees the police.
This means ZANU-PF will be in charge of key ministries including state security; defense; as well as justice and legal affairs.
It will also retain its hold on the ministry for media, information and publicity, meaning the new government is unlikely to lift a ban on international journalists entering the country.
Zimbabweans have not had a legitimate government since they went to the polls almost a year ago. Most are skeptical the two parties can work together, though they remain cautiously optimistic.
E-mail to a friend

All About Zimbabwe • Robert Mugabe • Morgan Tsvangirai