Editor's note: CNN does not have official permission to report from within Zimbabwe. We therefore are not identifying our correspondent's location.
Inside Zimbabwe (CNN) -- Opposition leader Morgan Tsvangirai was sworn in as prime minister of Zimbabwe Wednesday as part of a new unity government that Zimbabweans hope will signal an end to the political and economic crises that have gripped the nation for months.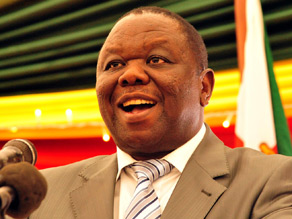 Morgan Tsvanirai reached a power-sharing deal with President Robert Mugabe last September.
The unity government is the result of a power-sharing agreement reached in September between Tsvangirai -- the leader of the opposition Movement for Democratic Change (MDC) -- and President Robert Mugabe after months of squabbling about the results of elections earlier in the year.
Attendees applauded as Mugabe administered the oath of office to his once-bitter rival.
Wednesday morning, the country wore a festive look. Police presence was heavy, but the air was light. A group of riot policemen sat in a truck singing songs in one city.
Elsewhere, people crowded newspaper stands to buy up the last remaining copies of the day's edition. The headlines spoke of a brand-new day full of promise.
Zimbabweans and outsiders alike are hopeful the new government will help heal the country's crippling economic crisis and eroding humanitarian situation, both seen as the worst since the once-prosperous nation gained its independence from Great Britain in 1980.
A cholera epidemic has claimed close to 4,000 lives and infected about 65,000 people since August, aggravated by a lack of water treatment chemicals and a problem with waste disposal in much of the country.
The United Nations says more than 5 million people are in need of food aid, in a country that has shortages of all essentials, including fuel, electricity and cash.
The shortages have created a fertile environment for inflation. The country recorded the highest level of inflation in the world in July, at 231 million percent.
Don't Miss
Zimbabwe has had no Cabinet since presidential elections in March created the political impasse.
Tsvangirai won the most votes in that election, but not enough to avoid a runoff, according to the government's official count.
He withdrew from the June 27 runoff days before the vote, saying Mugabe's supporters had waged a campaign of violence and intimidation against opposition supporters.
The two sides tried to end the stalemate with a series of talks that kept stalling when they couldn't agree on how much power Mugabe would retain.
Tsvangirai had said he would sign a deal only if Mugabe gave up some power.

The leaders reached a power-sharing agreement in September, with the position of prime minister created for Tsvangirai.
The various ministries will be shared between the MDC and Mugabe's ZANU-PF, with the former given 13 and the latter 15.
E-mail to a friend

All About Zimbabwe • Robert Mugabe • Morgan Tsvangirai