(CNN) -- One week in Darfur, the next week at the White House. That's the role of a peace activist -- one that actor George Clooney embraces.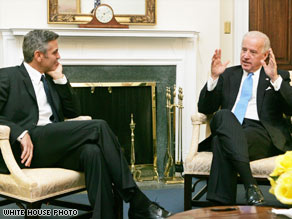 Actor George Clooney met with Vice President Joe Biden on Monday to discuss bringing peace to Darfur.
His battle to bring peace to Darfur brought him to the White House on Monday, where he met with President Barack Obama and Vice President Joe Biden.
The actor appeared on CNN's "Larry King Live" later on Monday to discuss his activism.
"I actually met with the president in the Oval Office for about 15 minutes," Clooney told King, adding that they'd worked together on Darfur three years ago, holding a news conference on the issue when Obama was a U.S. senator. The actor met separately with Biden on Monday.
"They've been very involved" in Darfur, Clooney said. "Vice President Biden has been incredibly vocal on the issue."
Clooney, a longtime Darfur activist and a Messenger of Peace for the United Nations, was in Darfur last week with journalists Nicholas Kristof of the New York Times and Ann Curry of NBC.
"I think somehow we should all know that these people are hanging on by the skin of their teeth," Clooney told King of his visit.
The government of Darfur has waged a brutal counter-insurgency against militias for the past six years, a war that some international critics have characterized as genocide.
An estimated 300,000 people have been killed through direct combat, disease or malnutrition, according to the United Nations. An additional 2.7 million people have been forced to flee their homes because of fighting among rebels, government forces and the allied Janjaweed militias.
Clooney said of his conversations with Obama and Biden: "Basically, we were just talking about coming back from Chad and right on the border of Darfur. And we were talking about there's a moment coming up relatively soon -- probably by the middle of next week -- where the International Criminal Court is going to indict the president of Sudan for war crimes, which has never happened before -- a sitting president."
Last year, Sudanese President Omar al-Bashir was charged with genocide by the International Criminal Court for the government's campaign of violence in Darfur.
The violence erupted in 2003 after rebels began an uprising against the Khartoum government. Sudanese authorities armed and cooperated with Arab militias that went from village to village in Darfur, killing, torturing and raping residents there, according to the United Nations, Western governments and human rights organizations. The militias targeted civilian members of tribes from which the rebels drew strength.
Under pressure to end the fighting, Al-Bashir in November agreed to an immediate and unconditional cease-fire in Darfur.
"This isn't about needing American dollars," Clooney said of the push for peace in Darfur. "I understand that it's a very difficult time. It's not about needing American troops. It's about needing what we do best -- what we have done best since the start of this country -- which is good, robust diplomacy all across the world."
The priorities, as Clooney advocated to Obama and Biden:
-- An envoy working full time on bringing peace to Darfur -- someone "getting up every morning with their sole job to find peace in the area," he said.
-- Persuading China to leverage its investment muscle in Darfur to push for peace.
-- Pressing Egypt, the African Union and Europe to strengthen diplomatic efforts in the region.
"Diplomacy has to start and it has to be aggressive and it has to start soon. We have an opportunity here," Clooney said.
E-mail to a friend

All About Darfur • Sudanese Politics • George Clooney