(CNN) -- Heavy clashes between Islamic insurgents and forces from the transitional government of Somalia Tuesday left at least 15 people dead and 60 others wounded, according to eyewitnesses, medics and residents.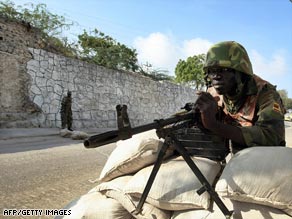 An African Union peacekeeper stands guard at the presidential palace in Mogadishu.
The fighting erupted in Mogadishu after Islamic insurgents attacked government forces at Taribunka, a major square in the southern part of the capital, residents said.
Dr. Dahir Mohamud Mohamed of Medina hospital confirmed that large numbers of people have been brought to the facility.
"We have received 50 civilians who were wounded in today's fighting and the hospital was already overwhelmed," he said.
Rufa'i Mohamed Salad, an ambulance driver, said that most of the deaths and injuries were caused by the heavy weaponry used by each side against the other.
Residents described the fighting as the deadliest since the Ethiopian troops withdrew from the city.
"We don't know when we feel secure in this city," said Nafiso Omar Abdi. Her neighbor and the neighbor's baby were killed in the crossfire of Tuesday's fighting.
Don't Miss
Even after the withdrawal of Ethiopian troops last month, the fighting and death continue, added Nafiso.
"The sound of the heavy weaponry was terrifying," said Ali Hassan, who saw a heavy shell hit a pharmacy, killing four people and injuring 20 others.
The latest attack came a day after Somali President Sharif Sheikh Hassan finally relocated to Mogadishu from neighboring Djibouti, where he had worked on putting together his government away from the violence strafing his country.
It also came two days after a deadly suicide attack targeted African Union peacekeepers in Somalia, killing 11 soldiers.
E-mail to a friend

Journalist Mohammed Amiin Adow contributed to this report