(CNN) -- Fighting has prompted thousands of people in the southern part of Sudan's Darfur region to seek security and shelter at a refugee camp in the northern part of the war-torn area, according to the United Nations.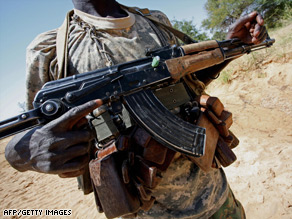 A member of the Justice and Equality Movement (JEM) stands guard near the Sudan-Chad border in 2007.
The U.N.'s Office for the Coordination of Humanitarian Affairs (OCHA) reported that fighting in Muhajeria and Shearia between Sudanese government forces, and the rebel Justice and Equality Movement (JEM), drove over 15,000 people north to the Zam Zam camp.
The water supply to the camp is becoming strained with displaced people arriving there every day, OCHA said Wednesday.
The government of Sudan has waged a brutal counter-insurgency against militias for the past six years, a war that some international critics have characterized as genocide.
An estimated 300,000 people in the western Sudanese region have been killed through combat, disease or malnutrition, according to the United Nations. An additional 2.7 million people have been forced to flee their homes because of fighting among rebels, government forces and the violent Janjaweed militias.
Don't Miss
Fighting continues in the region despite the JEM and local government signing a "goodwill and confidence-building" agreement earlier in February, according to the U.N.
The U.N.-African Union allied peacekeeping mission (UNAMID) will begin building a new community police center near Zam Zam in the next two weeks, the U.N. announced Saturday.
The violence in Darfur erupted in 2003 after rebels began an uprising against the Sudanese government. To counter the rebels, Sudanese authorities armed and cooperated with Arab militias that went from village to village in Darfur, killing, torturing and raping residents there, according to the United Nations, Western governments and human rights organizations. The militias targeted civilian members of tribes from which the rebels drew strength.
Last year, Sudanese President Omar al-Bashir was charged with genocide by the International Criminal Court for the government's campaign of violence in Darfur.
Under pressure to end the fighting, Al-Bashir in November agreed to an immediate and unconditional cease-fire in Darfur. But the rebel Justice and Equality Movement was not included in the case-fire talks.
E-mail to a friend

CNN's Katy Byron contributed to this report.
All About George Clooney • Darfur • Joseph Biden