HARARE, Zimbabwe (CNN) -- Jestina Mukoko, Zimbabwe's top human rights activist, was released from custody Monday, she announced.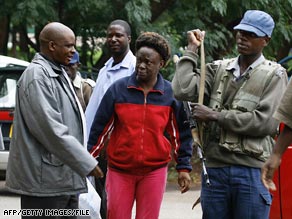 Activist Jestina Mukoko arrives at court in Harare, Zimbabwe, in December.
Mukoko heads the Zimbabwe Peace Project. Kidnappers who it was later revealed were state agents abducted her December 3 from her home in Norton, about 25 miles (40 kilometers) southwest of the capital, Harare.
"It's good to be free," Mukoko told a group of journalists from her bed in a clinic where she is being treated for health troubles. "The cloud that was hanging over me," is gone, she said. She was released on $600 bail.
Mukoko was moved to the clinic last month, but she was handcuffed to the bed and surrounded by police. On Monday, her handcuffs were removed and the police left.
"I need to call my son and tell him I'm free. I want to concentrate on my health now," Mukoko added.
For three weeks after her abduction in December, police refused to disclose her whereabouts or anything about her kidnappers, citing security concerns.
Don't Miss
She was among more than 30 human rights activists imprisoned toward the end of 2008, according to the U.S. ambassador to Zimbabwe and a human rights lawyers group. All appeared in court in December.
At a court appearance in January, Mukoko broke down twice as she described being detained and tortured by state agents.
She asked the Supreme Court to declare her detention, alleged torture and the charges against her illegal.
President Robert Mugabe's government charged her with banditry -- recruiting people for insurgency training and terrorist bombings -- and plotting against Mugabe's government.
"I feared for my life most of the time, as I was blindfolded," she said in court in January, describing her detention.
"I used to sit on the floor. One day when they asked me to sit on a chair I feared for the worst. I thought it could be an electric chair. Throughout my stay in captivity, they kept threatening me with extinction."
She also said her feet were beaten and the pain kept her awake at night.
She said the assaults began after she denied ever working for the Voice of America, a broadcasting service funded by the U.S. government.

Mukoko worked for the Voice of the People, a radio station that broadcasts into Zimbabwe from abroad.
Zimbabwe's director of prosecutions, Florence Ziyambi, argued that Mukoko's rights were not violated and added, "She can ask for remedies and compensation for the ill treatment she claims she went through."
E-mail to a friend

All About Zimbabwe • Robert Mugabe • Morgan Tsvangirai