By CNN's Barry Neild





LONDON, England (CNN) -- The killing will go on in Darfur despite the International Criminal Court's moves against Sudan President Omar Hassan al-Bashir, refugees from the violence said Wednesday, lamenting the country they say is now beyond salvation.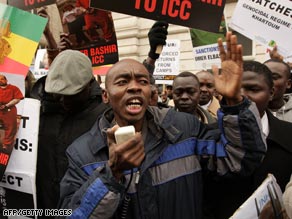 Members of London's Darfur community want Sudan's president to face war crimes charges.
The ICC has issued an arrest warrant for al-Bashir for crimes against humanity over his government's use of armed militias to quell a rebel uprising, razing entire villages and killing, raping and torturing civilians.
But though they want to see the president brought to justice, many of those who have fled persecution doubt the ICC will succeed, leaving one of Africa's most notorious modern campaigns of bloodshed largely unchecked.
"I don't think it will make any difference. He will keep killing," said Salah Adam, one of several hundred Darfur refugees staging a vigil outside the Sudanese embassy in London to demand international intervention in their homeland.
Adam, like many of those gathered, says he left Darfur fearing for his own safety after suffering persecution at the hands of government security forces. The former student says he fled his village of Lobdo in west Darfur after his father and brother were killed by government-backed Janjaweed militia.

Watch Darfur campaigners demonstrate in London »
"The Janjaweed came and attacked all the villages in our area by helicopter. After that they came by horse and set fire to the villages, killing women, children and men," the 23-year-old said.
"We need all the international organizations to help Darfur. Without that help there is nothing left for us. The people have no medicine, no food and no clothes."
Human rights lawyer Matar, 32, says he fled Darfur after being persecuted by government national security troops after returning from a conference on rights in London.
"My life was in danger, they arrested me two times in Khartoum and two times in Darfur itself. I was beaten, and I knew I had to get out," he said.
Don't Miss
Says Matar, although he believes the ICC has irrefutable evidence against al-Bashir, he does not foresee a time when he will be able to return to his home in Zalingie, west Darfur, and the wife he was forced to leave behind.
"I will never go back."
Altahir Mohammed, 28, who left a sister and two brothers when he fled his village near the Darfur town of Disha also urged greater international intervention to bring to justice a man he says eclipses all other modern war criminals.
"If this is not genocide in Darfur, then there has never been genocide anywhere in the world," he said.
For some among the crowd, the fear of becoming another victim of the violence in Darfur -- which the U.N. says has claimed 300,000 lives -- remains, despite having escaped the troubled region's borders.

Mohammed Osman Basi, 26, says he applied for asylum in the UK after arriving in 2006 under threat from government forces he says were hunting him for "being active with the rebels."
"They turned down my application for asylum. It has been to several courts now, but every time it is the same. They reject me. I am now homeless and worried about what will happen next. If I get sent back, I will die."
E-mail to a friend