HARARE, Zimbabwe (CNN) -- The International Monetary Fund has announced it will send a fact-finding mission to poverty-stricken Zimbabwe next week to assess the nation's "economic situation and prospects."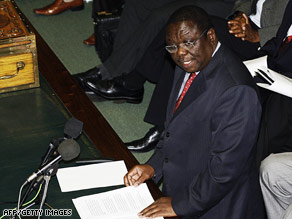 New PM Morgan Tsvangirai, at a speech in parliament Wednesday in Harare, called the economy his top priority.
During the visit, which is being made "at the request of Zimbabwe's authorities," the mission team will discuss with government officials "their policies to address the acute economic and humanitarian crisis facing the country," the IMF said in a news release.
The visit to Harare will last from Monday through March 24, the IMF said.
"The IMF conducts such discussions, which focus on a country's economic prospects and policies, with all its members on a regular basis," said the IMF release, issued Thursday. "Following the visit, the staff team will write a report, which the IMF's executive board is tentatively scheduled to discuss in early May."
The news release added that the IMF team, led by Vitaliy Kramarenko, will meet with Tendai Biti, Zimbabwe's finance minister under the coalition government formed last month.
Zimbabwe's economic crisis has stretched for months. Its inflation rate -- the highest in the world -- has been fueled by acute shortages of all essentials, including food, fuel and electricity. The country has now abandoned its worthless legal tender -- the dollar -- and instead is using the U.S. dollar, the British pound and the South African rand.
Estimates put the unemployment rate at 94 percent in a country where, according to the United Nations, more than half the population is facing starvation.
The new government is likely to use the IMF visit to seek international aid to revive the battered economy, which many commentators blame on President Robert Mugabe's policies. Last month, Morgan Tsvangirai, the new prime minister, said the country needs about $5 billion to kick-start the economy, of which $2 billion was required immediately.
Private Zimbabwean economic commentator John Robertson said he sees little hope of the nation getting that funding.
"As long as we do not change our policies, no cent will come from the IMF -- even if they are to come here every day," he said. "No institute would pour funding where there is no rule of law or a sound economic policy."
Robertson was referring to statements by Mugabe that his controversial policy of taking land from white commercial farmers will continue. Many analysts blame the policy, initiated in 2000, for the food shortages and economic meltdown because the land was given to inexperienced farmers whose prime qualification was being loyal to Mugabe's ZANU-PF party.
The IMF last visited Zimbabwe in 2006. Harare owes the institution money, and that debt in the past almost led to its expulsion from the organization.
E-mail to a friend

All About Zimbabwe • Morgan Tsvangirai • Robert Mugabe