(CNN) -- Sudan's President Omar al-Bashir made his first trip to Darfur since an international tribunal ordered his arrest on war crimes charges, pledging resistance Sunday to what he called efforts to "recolonize" Africa.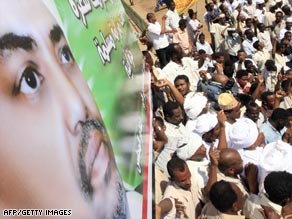 Sudanese demonstrators protest an arrest warrant for war crimes issued last week against President Omar al-Bashir.
Thousands of supporters lined the streets of El-Fasher, the capital of Sudan's North Darfur state. Al-Bashir toured the city in an open car in full military uniform, drawing cheers similar to the ones he received in a Thursday rally in Khartoum.
"They know that we are leading the international movement to rebel against injustice, against the new world order and against neocolonialism," he said Sunday.
"We are ones who liberated Africa. We supported liberation movements all over Africa and expelled the colonizers from Africa, so it is completely unacceptable for us to allow the recolonization of Sudan."
The International Criminal Court at The Hague, Netherlands, has charged al-Bashir with war crimes and crimes against humanity. The tribunal issued a warrant for his arrest last week, accusing him of complicity in a campaign of violence against the people of Darfur, in the west of the country.
The allegations stem from the long-running civil war between rebels in the territory and the government in Khartoum. The United Nations estimates that 300,000 people have been killed in the conflict, and 2.5 million have been forced to flee their homes.
Sudan has angrily rejected the accusations and the indictment. Kamal Obaid, Sudan's state minister of information and communications, called the ICC a "white man's tribunal" and the arrest warrant "an insult."
Don't Miss
After the warrant, Sudan ordered a number of international aid agencies out of the country and seized their assets. The agencies have warned that the expulsions could have put up to 1 million lives at risk -- but the warrant appears to have rallied many Sudanese behind al-Bashir, said Thierry Durand, the director of operations in Sudan for the medical charity Doctors Without Borders.
"The decision of the International Criminal Court has generated support," Durand said. "It transcended a bit the political parties here. So it's a question of national pride somehow."
Durand said the Nobel Peace Prize-winning group has no idea what has happened to the patients in its hospitals since it was ordered out of the country.

Sudanese authorities accused Doctors Without Borders and other aid groups of misappropriating funds and spying. Durand dismissed those allegations as "propaganda," noting that his group does not take any government funding and has no ties to the ICC.
"We have been taken offstage and mistaken for human rights activists that have lobbied for justice and for the ICC," he said. "This is why we are not maintaining any relation with the ICC and certainly not providing them with any kind of information."
E-mail to a friend

All About Sudan • Darfur • International Criminal Court