HARARE, Zimbabwe (CNN) -- Zimbabwean Prime Minister Morgan Tsvangirai will return to the country for his wife's funeral on Wednesday, a spokesman for his Movement for Democratic Change party says.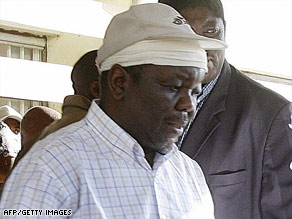 Morgan Tsvangirai leaves the hospital Saturday after being treated for injuries from a car crash.
Tsvangirai was injured Friday in a car wreck that killed his his wife of 31 years, Susan. His party is conducting its own investigation into the crash, a senior official said.
Tsvangirai, who recently joined a unity government with long-time foe President Robert Mugabe, was taken to Botswana on Saturday for medical treatment, sources told CNN.
Tsvangirai's MDC party will hold a rally Tuesday in honor of Susan Tsvangirai, said Nelson Chamisa, the MDC spokesperson.
He called it "a send-off rally befitting a heroine."
He refused to say exactly when Tsvangirai would return to Zimbabwe. "The president (of the MDC) will definitely be back in the country in time for the burial set for Wednesday and the other formalities that go with the funeral. But I cannot give the media his itinerary as that comprises his security," Chamisa said.
A Botswanan government source and a source with the prime minister's party said earlier Tsvangirai was at a hospital in Gaborone, Botswana.
"He's badly bruised and is receiving treatment," the Botswanan government source said. Earlier Saturday, Tsvangirai left a hospital in Zimbabwe where he had been treated for head injuries from the wreck.
Video showed the prime minister walking out of the hospital with a baseball cap over his bandaged head.

Watch how the accident threatens to derail the unity government »
A truck collided Friday with Tsvangirai's vehicle on a a busy two-lane highway between his hometown of Buhera, Zimbabwe, and the capital city of Harare.
MDC members told CNN that Tsvangirai believed the driver deliberately drove toward him.
The prime minister told one MDC official that "the truck came straight for him."
Other MDC officials concurred with the official's account.
Don't Miss
On Saturday MDC Secretary-General Tendai Biti said, "We cannot precipitate the investigations that are taking place."
But Biti said the MDC would augment the police investigation with its own probe.
He said Susan Tsvangirai "was a mother to all of us. She was a pillar and foundation to our prime minister."

Watch more on the fatal crash »
He added, "So this is a sad day, indeed, for us."
The couple, who were married in 1978, have six children.
Analysts say the crash is bound to raise suspicion of foul play. One former U.S. diplomat, noting it is not the first time a political foe of Mugabe's had been killed or injured in a car crash, called for an outside investigation.
"I'm skeptical about any motor vehicle accident in Zimbabwe involving an opposition figure," said Tom McDonald, who served as the U.S. ambassador to Zimbabwe from 1997-2001.
McDonald cited the car crash deaths of Defense Minister Moven Mahachi in 2001, Employment Minister Border Gezi in 1999 and Elliot Manyika, a government minister and former regional governor, last year.
McDonald, however, was quick to say that traffic accidents were common in Zimbabwe.

"It's certainly plausible that this was just one of those tragic things," he said.
Tsvangirai took office last month under a power-sharing deal with Mugabe after months of protracted debate, which followed a contentious presidential election last year.
E-mail to a friend

CNN's Nkepile Mabuse contributed to this report.
All About Zimbabwe • Robert Mugabe • Morgan Tsvangirai