(CNN) -- Gunmen killed a United Nations peacekeeper in the Darfur region of western Sudan on Tuesday.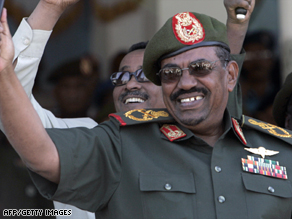 Sudanese President Omar Hassan al-Bashir waves to troops at a rally in Khartoum, Sudan, on Tuesday.
Eight gunmen opened fire on six peacekeepers in the city of Niyala, in the southern part of Darfur, said Josephine Guerrero, a spokeswoman for a joint peacekeeping operation of the United Nations and African Union in Darfur.
The peacekeepers returned fire in self-defense, Guerrero said, but one of them was wounded and later died in a hospital.
The joint peacekeeping mission operates in the war-ravaged Darfur region of Sudan.
The United Nations says at least 300,000 people have died since 2003 in Darfur and that another 2.5 million have been forced from their homes.
Violence erupted on a large scale after a fledgling rebellion broke out in 2003.
Government troops and aligned militias went from village to village killing and raping, human rights groups and Western nations say.
The International Criminal Court issued an arrest warrant this month for Sudanese President Omar Hassan al-Bashir, accusing him of war crimes and crimes against humanity -- charges he denies.
The warrant does not mention genocide, but the court said it may issue an amended warrant to include that charge later. The U.S. Congress has condemned the killings in Darfur as genocide.
In response, Sudan has ordered 13 international aid groups to leave the country -- groups that the U.N. says provide roughly half the assistance delivered in Darfur.
E-mail to a friend