(CNN) -- Al Qaeda leader Osama bin Laden has called for Somalia's new president to be overthrown, according to an audio recording posted Thursday on the Internet.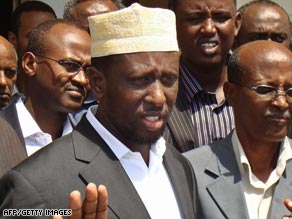 President Sheikh Sharif Sheikh Ahmed has said shariah law in Somalia will not be strictly interpreted.
Bin Laden said Sheikh Sharif Sheikh Ahmed had been president of the country's Islamic Courts but "as a result of inducements and offers from the American envoy in Kenya, he changed and turned back on his heels" and agreed to partner with the "infidel" to form a government of national unity.
Ahmed -- whom Somali lawmakers elected president on January 31 -- should be "dethroned, fought and removed with armed force," said the message, titled "Fight on, Champions of Somalia."
The authenticity of the recording could not be independently verified. It has Arabic audio and English subtitles, with a photo of bin Laden in the backdrop.
The message comes after another purported bin Laden message was delivered last week. That message decried Israel's recent offensive in Gaza and called it a "holocaust."
Somalia has not had a functioning government since 1991, and militias have controlled most of the East African country for nearly two decades.
With the backing of the United States, Ethiopian forces invaded Somalia, ousted the Islamic Courts Union from power and reinstalled the U.N.-backed transitional government. Ethiopian forces withdrew from Somalia in January under the auspices of a UN.-brokered peace accord reached in June.
Last month, Ahmed told reporters he would give in to a rebel demand that he impose Islamic law, or shariah, in the African country -- an effort to halt fighting between Somali forces and Islamic insurgents.
But Ahmed told reporters he won't agree to a strict interpretation of the law, which forbids girls from attending school, requires veils for women and beards for men, and bans music and television.
The president, speaking at his palace in the capital, Mogadishu, said at the time that local elders and religious leaders, acting as liaisons with the militants, brought him a message saying the rebels wanted a truce in the fighting. He, in turn, also asked African peacekeepers to stand down.
Addressing "Muslim brothers in Mujahid Somalia," the message purportedly delivered by bin Laden describes a war on Somali soil "between Islam and the international crusade." The message likened Ahmed to Muslim leaders in Afghanistan who cooperated with the West, and it said Ethiopia had been doing the West's bidding.
"The NATO alliance deputized Ethiopia to carry out this mission, and after they and those who appointed them were exhausted by your blessed jihad, they resorted to subterfuge and deception, as is their custom in the Islamic world, and appointed over you a man who, although from your kinsfolk, follows their religion -- the former president, Abdullahi Yusuf.
"But since you weren't taken by the old trick of 'Karzais' which they have been using in the region, they replaced him and brought in a new, revised version, similar to ... [former] leaders of the Afghan mujahedeen before they turned back on their heels (as apostates) and helped their ally -- America -- to bring down the Islamic emirate in Afghanistan.
"Such is the case with Sheikh Sharif."
The message warned Somali militants to "beware of the initiatives which wear the dress of Islam and the religious institutions even as they contradict the rules of Islamic shariah, like the initiative attributed to some of the scholars of Somalia which gives Sheikh Sharif six months to implement Islamic shariah. They are asking him for something he was installed to demolish, so how can he possibly erect it?"
The message said the national unity effort in Somalia is a "blatant betrayal of trust" and warned fighters about an initiative to stop their fighting to negotiate with the new president, referred to as a "new surrogate" under American control.
"All intelligent people are aware of America's combating of Islam, and its past rejection of its establishment in Somalia, as well as in Iraq and Afghanistan," the message said.
E-mail to a friend

All About Somalia • Osama bin Laden • Ethiopia