(CNN) -- After two months of political turmoil, former opposition leader Andry Rajoelina was inaugurated in front of thousands of supporters Saturday as Madagascar's president, eyewitnesses said.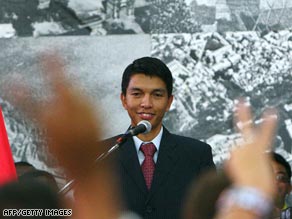 Andry Rajoelina took over after Marc Ravalomanana ceded power to the military.
The event, which took place at a soccer stadium in the capital city of Antananarivo, was broadcast on national television.
The country's political crisis ended earlier this week, after then-President Marc Ravalomanana ceded power to the military, which handed over government control to Rajoelina, the former mayor of Antananarivo.
Rajoelina declared himself president of a transitional government, and was confirmed by Madagascar's high court.
The country was plunged into political instability in January after thousands of people took to the streets to protest rising food prices and what they perceived as autocratic behavior by Ravalomanana. The protests soon degenerated into rioting and looting, leaving about 100 people dead.

Watch more on president's resignation »
In his acceptance speech Saturday, Rajoelina, a former disc jockey, proclaimed "the end of the dictatorship," other eyewitnesses said.
The eyewitnesses did not want to be named for fear of retribution.
Don't Miss
Meanwhile, at the Place de la Democratie in Antananarivo, 4,000 to 6,000 people peacefully protested Rajoelina's inauguration.
Demonstrators carried banners that said, "We do not want a hooligan government" and "Do not terrorize the population."
It was not immediately clear which countries would recognize Rajoelina.
Earlier this week, the Southern African Development Community group said it "completely rejected the legitimacy" of Rajoelina, the organization's executive secretary, Tomaz Salomao, told CNN. The African Union suspended Madagascar's membership on Friday.

And U.S. State Department spokesman Robert Wood said Friday that the United States will suspend all non-humanitarian aid to Madagascar, calling the forced departure of Ravalomanana "tantamount to a coup d'etat."
Opponents of the 34-year-old Rajoelina point out that he is too young to serve as president. According to Madagascar's constitution, the minimum age for that office is 40.
E-mail to a friend

All About Madagascar