By Robyn Curnow
CNN





CAPE TOWN, South Africa (CNN) -- Hours after G-20 leaders agreed to a trillion-dollar bailout of the world economy in chilly London, one of the world's most flamboyant hoteliers opened his latest luxury hotel in sunny South Africa.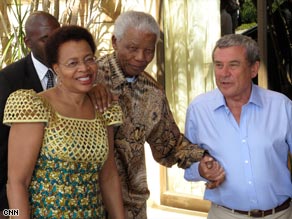 Nelson Mandela, accompanied by his wife Gracia Marcel, are greeted by Sol Kerzner.
Sol Kerzner admits opening an uber-luxury hotel in the current economic climate is not ideal, but he still firmly believes his latest venture -- One&Only -- in Cape Town's waterfront will be a success.
Across his global hotel empire, from Atlantis in the Bahamas to the Royal Mirage in Dubai, he admits accommodation rates are down. However, he says, there is still a market for high-end hotels -- guests are just changing the way they travel.
Instead of booking months in advance, Kerzner says, many of his rooms are only booked at the last minute as travelers become more cautious about spending. This, he says, makes it far more difficult for him and his team to plan ahead but still, the party goes on.
In classic Kerzner style, the opening launch of the One&Only Cape Town was about glamour, celebrities and conspicuous consumption.
Kerzner's hotels are more than just expensive posh rooms; he peddles the promise of being part of the lifestyle of rich and famous.
So, of course, in Cape Town on Thursday the talk was more of red carpet than recession Milling around the hotel, even before Thursday night's big party, were celebrities Sharon Stone, Matt Damon and Robert de Niro.
Also, staying at the hotel was Mariah Carey -- whose security detail seemed to be larger than Nelson Mandela's -- who also showed up to celebrate Kerzner's return to South Africa's hotel market after two decades overseas.
The party was a billed as an intimate affair of 250 close family and friends -- who were treated to food from the hotels two restaurants that are both headed up by famous Michelin starred chefs. At Nobu, legendary chef Nobuyuki Matsuhisa has opened his first restaurant on the African continent. He's joined by culinary star Gordon Ramsay's Maze restaurant.
Kerzner's brash and bold use of celebrities and the media to boost his brand is, he says, a deliberate marketing tool. "Why be the world's best kept secret?' he joked to CNN by the infinity pool of his newest venture.
And after more than 40 years in the business, he understands that the allure of the rich and famous can help him to sell hotel rooms.
Don't Miss
In the early 1960's, when he was just 29, Kerzner developed South Africa's first five start hotel called the Beverley Hills. Marlene Dietrich, he says, was at the opening.
Years later, when he revolutionized the concept of a gaming and entertainment destination by developing the Sun City resort, Frank Sinatra performed at the opening of the Sun City Superbowl.
When he launched his One&Only Palmilla in Mexico the opening party was a surprise fiftieth birthday party for Hollywood actor John Travolta.
In 2008, at the opening of the Atlantis, The Palm in Dubai, his celebratory fireworks display was beamed live on satellite around the world and was billed as so spectacular it the could be seen from space.
Now in his 70's, Kerzner's showing now signs of slowing down. His next hotel and casino resort opens in Morocco later this year.
E-mail to a friend