JOHANNESBURG, South Africa (CNN) -- Prosecutors dropped corruption charges Monday against South Africa's ruling party president Jacob Zuma, who is expected to win the presidential race later this month.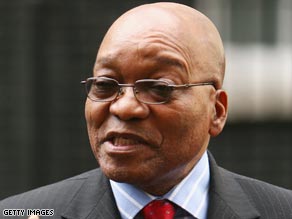 Jacob Zuma is expected to win the country's upcoming presidential election.
The leader of the African National Congress had been charged with more than 700 counts of corruption and fraud.
The charges, which were linked to a multibillion dollar arms deal in the country, were dropped after eight years of investigations.
Zuma, who was named one of Time's Most Influential People in 2008, is favored to win the country's next presidential elections scheduled for April 22.
He served as deputy president of South Africa from 1999 until he was fired in 2005 by President Thabo Mbeki over his alleged involvement in a bribery scandal.
Opposition parties are accusing prosecutors of buckling under pressure from the ruling party.
Mokotedi Mpshe, head of the National Prosecuting Authority, disagreed.
Don't Miss
"An intolerable abuse has occurred," Mpshe said after reading transcripts of telephone conversations between two prosecution chiefs who appear to be planning to charge Zuma before ANC party elections.
E-mail to a friend

CNN's Nkepile Mabuse contributed to this report
All About Jacob Zuma • South Africa • African National Congress