JOHANNESBURG, South Africa (CNN) -- South Africa's ruling party president Jacob Zuma declared his innocence Tuesday after a court formally dropped corruption charges against him.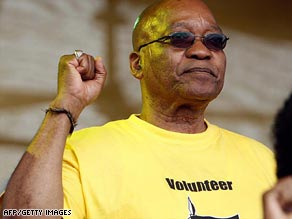 Jacob Zuma, president of the ANC, pictured at a rally in East London, South Africa, last month.
"My conscience is clear I have not committed any crime against the state or the people of South Africa," Zuma said. "I had no difficulty in responding to charges against me because they were baseless. Now I have been vindicated."
Zuma, the leader of the African National Congress, had been charged with more than 700 counts of corruption and fraud.
The charges, which were linked to a multibillion dollar arms deal in the country, were dropped after eight years of investigations.

Watch more about Zuma's corruption case »
Prosecutors Monday announced they were withdrawing their case against Zuma because of a lack of evidence. A judge endorsed prosecutors' recommendation Tuesday.
Don't Miss

"I sought recourse from the courts because I felt my rights were being violated," Zuma said.
Zuma, who was named one of Time's Most Influential People in 2008, is favored to win the country's next presidential elections scheduled for April 22.
E-mail to a friend

CNN's Nkepile Mabuse contributed to this report
All About Jacob Zuma • South Africa • African National Congress