(CNN) -- A Nigerian militant group on Sunday released a sick British oil worker it had held hostage for seven months.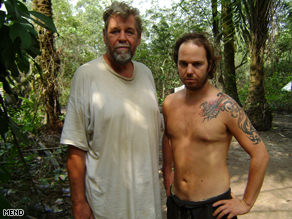 The Movement for the Emancipation of the Niger Delta released this image of men it claimed were British hostages.
The British High Commission and the militant group, Movement for the Emancipation of the Niger Delta, confirmed the release of Robin Barry Hughes, who was captured in September.
MEND issued a statement saying Hughes was "handed over to contacts who in turn handed him over to his employers" at Hydrodrive.
The group said no ransom was requested.
Hughes' spirits were "quite high" following the release, his brother, Simon Hughes, told Sky News.
"He said it's been very difficult and he's not particularly well, but he's OK," Simon Hughes said.
MEND announced earlier in the day it would release Robin Barry Hughes based on "health and age considerations." His colleague, Matthew John Maguire, who also was abducted in September, was not released.
"The remaining hostage ... will remain in our custody until further notice," MEND said in the statement.
Simon Hughes said his brother reported Maguire is "actually quite fit and healthy ... which is good news."
Though the High Commission confirmed Robin Barry Hughes' release, it told CNN it wasn't handling the case.
MEND has captured American and European oil workers in the past, sometimes releasing them. The group is demanding more of the country's oil wealth be pumped into the region instead of enriching foreign investors. It also is demanding the release of prisoners it believes are being held for political reasons.
Violence in oil-rich Nigeria has been limiting crude supplies out of the country. MEND has attacked oil pipelines, limiting the amount of crude oil that can leave the country.

MEND had threatened to hold Hughes and Maguire until the Nigerian government released one of the group's members, Henry Okah who was taken into custody last year and, according to local reports, charged with treason.
The group credited Okah for requesting Hughes' release on "compassionate" grounds and said his request was "delivered through a reliable source."
E-mail to a friend

CNN's Christian Purefoy contributed to this story from Lagos, Nigeria.
All About Nigeria • Oil Prices • Niger Delta • Movement for the Emancipation of the Niger Delta