By Nkepile Mabuse
CNN





JOHANNESBURG, South Africa (CNN) -- The ruling African National Congress is expected to win Wednesday's elections in South Africa by a landslide, but polls predict it might lose its two-thirds parliamentary majority.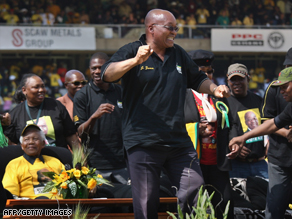 ANC leader Jacob Zuma and Nelson Mandela, seated, share a stage at a rally in Johannesburg on Sunday
The ANC, led by Jacob Zuma, has gained votes in every election since 1994, but a new player, Congress of the People, threatens the party's grip on power.
Congress of the People -- or Cope -- is a breakaway faction of the ANC. The ANC has been dogged by corruption and accused of failing to deliver services to the poor. Fielding a controversial leader as its presidential candidate has not done the party any favors.
Until early this month, Zuma, who is practically the country's president-in-waiting, was facing fraud and corruption charges. The charges were dropped two weeks before the elections because of alleged political interference in his case.
That decision by the country's prosecuting authority sparked widespread outrage, with opposition parties accusing prosecutors of buckling under political pressure.
Nevertheless, Zuma is expected to take over as president. At a news conference, Zuma reassured South Africans that his party will use its majority responsibly.
"We will not ride roughshod over the rights of the people or bulldoze other parties into submission," Zuma said. He added that he does not believe there is a cloud of suspicion hanging over him.
"According to the country's constitution, you are innocent until proven guilty, so there is no cloud, not even mist," Zuma told reporters.
Don't Miss
In the past 15 years, the ANC has built 2.8 million houses and provided running water, sanitation and electricity to the poor. South Africa boasts a robust constitution and the strongest economy on the continent.
Yet more than one million people still live in shacks, and the newly constructed homes have been found to be substandard, with many falling apart even before being handed over to beneficiaries.
That's the result of the awarding of government contracts to pals rather than those competent to carry out the work.
And though the country's economy has grown, it has not produced significant job opportunities. One in four adults is unemployed. At the same time, many senior members of the ANC have created wealth for themselves while a majority of the country's citizens wallow in poverty.
Violent crime also has escalated. Last year, nearly 50 people were killed daily, according to police.
And though South Africa won the bid to host the Football World Cup in 2010, many say that the billions that are being spent on the tournament could be better used to lift the lives of the needy.
Despite all the criticism, the ANC remains hugely popular. Most South Africans still consider the party of Nelson Mandela as their only political home. It is the party that helped end apartheid and bring democracy to the country. The only party that a majority of the country's citizens, who are black and poor, believe can transform their lives.
The emergence Cope has however unnerved the ANC.
Launched in December, Cope is made up of former ANC members who quit following ANC's sacking of Thabo Mbeki as the country's president.
The latest polls predict Cope will get 15 percent of the vote, with the country's official opposition, the Democratic Alliance, projected to receive 16 percent. The ANC is expected to garner 60 percent, short of the two-thirds majority it is gunning for.
A look at the main players:
Cope is selling itself as a party of clean governance offering honest leadership. Its members criticize the ANC under Zuma for failing to uphold the rule of law and the constitution, which Cope says it will protect. It wants to change South Africa's electoral system so that leaders are elected by voters and not their parties.
Cope's presidential candidate, Mvume Dandala, is a former priest who was also an anti-apartheid activist. Cope has become an alternative for the country's middle class, which traditionally voted for either the ANC or the Democratic Alliance. It is also targeting those who are dissatisfied with the ANC's delivery of services and rampant corruption, and those who do not want Zuma, who was acquitted of rape in 2006, to become president.
The opposition Democratic Alliance has a strong support base among white people and South Africans of mixed race. Its stronghold is the Western Cape. In the 2004 elections, it won 12 percent of the national vote, and it has become the ANC's most vocal opponent. More recently, it has vigorously opposed Zuma's presidential bid and is legally challenging the dropping of his corruption case. It is led by former journalist Helen Zille, a former anti-apartheid activist who is white but speaks Xhosa fluently. Xhosa is the main ethnic language spoken in the Eastern and Western Cape.
The Democratic Alliance has had various election campaigns that have not gone down well with black South Africans. According to its own post-elections report, its "Fight Back" campaign of 2004 alienated black voters who saw it as aggressive and offensive. Its latest poster campaign also has caused controversy. It reads, "Stop Zuma vote DA." Despite the growth of its black support base, most black South Africans still consider it a white party that is concerned only with promoting white interests.
The Inkhatha Freedom Party headed by Mangosuthu Buthelezi has its support base mainly in one province, Kwazulu Natal, among Zulu speakers. It got 6.97 percent of the vote in 2004.
The United Democratic Movement was formed by former ANC member Bantu Holomisa. Its stronghold is in South Africa's Eastern Cape, where many ANC leaders are from, and it got 2.28 percent of the vote in 2004.
The Independent Democrats was formed in 2003 by Patricia de Lille. De Lille blew the lid on corruption in South Africa's 1999 multibillion-dollar arms deal and was a witness in the case against Zuma. Her support is mainly in the Western Cape, where she is from, and she got only 1.73 percent of the vote in 2004.
There are 40 parties vying in the elections, with 26 participating nationally and 14 provincially. Though South Africa's opposition parties remain generally weak, the ANC worries that collectively they may eat away at its majority.

So the ruling party has brought 90-year-old Nelson Mandela out of retirement to take part in two of its election rallies -- a strategy to remind South Africans that their most adored politician remains a loyal member of the ANC.
And that the ANC under Zuma, despite its imperfections, is still the ANC of the man who helped bring democracy to South Africa.
E-mail to a friend

All About South Africa • African National Congress • Jacob Zuma