(CNN) -- As a prisoner of South Africa's apartheid regime, Jacob Zuma spent 10 years incarcerated alongside Nelson Mandela on Robben Island.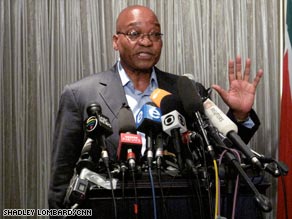 ANC leader Jacob Zuma is expected to be South Africa's next president.
Following the ANC's fourth successive landslide victory, Zuma is now poised to walk in Mandela's footsteps once again by becoming South Africa's new president.
But while Mandela at 90 remains an almost universally loved symbol of the struggle against white rule, Zuma is the most controversial and divisive political figure of his generation, defying a string of scandals and repeated allegations of corruption in his rise to power.
Among South Africa's poor black majority, Zuma's popularity has reached cult-like proportions with his election campaign consolidating his status as a man of the people.
But the prospect of the 67-year-old becoming president -- Zuma will be formally elected when lawmakers convene to form a new parliament next month -- has long appalled the country's elite, middle class and white minority, who accuse him of playing the populist and undermining the rule of law.
Just two weeks before this week's elections, South African prosecutors dropped more than 700 outstanding counts of corruption and fraud leveled at Zuma over a multi-billion dollar arms deal; a decision which opposition politicians said was politically influenced.
But Zuma claimed the prosecutors' decision had cleared him of any suspicion of wrongdoing. "My conscience is clear. I have not committed any crime against the state or the people of South Africa," he said.
Don't Miss
Corruption allegations have dogged Zuma since 2001. In 2005 his former financial adviser Schabir Shaik was jailed for 15 years for soliciting bribes and using Zuma's political influence to benefit his businesses.
South African president Thabo Mbeki subsequently dismissed Zuma as his deputy, prompting a split within the party that culminated with Zuma ousting Mbeki from the ANC presidency last year.
The rift also served to enhance Zuma's popularity among core ANC supporters. Whereas Mbeki was considered aloof and disconnected, Zuma was seen as a politician in touch with the lives and problems of ordinary South Africans, commanding loyal support from leftist factions and trade unions.
Raised in poverty, Zuma taught himself to read and write. He is admired for practicing the Zulu traditions of his home province of KwaZulu-Natal, playing the anti-apartheid anthem "Bring Me My Machine Gun" at party rallies.
He remains a hero of the struggle against white rule, jailed for conspiring to overthrow the government and later serving as the ANC's intelligence chief during 15 years in exile in Swaziland, Mozambique and Zambia.
Zuma's personal life has also come under scrutiny. As a Zulu traditionalist, Zuma has several wives. In 2007, Time magazine reported that Zuma had 17 children by nine different women. In 2006 he was acquitted of a rape charge, but admitted in the trial that he'd had unprotected sex with a woman who was HIV positive. Zuma said he had showered afterwards to minimize the risk of infection.
Zuma's leadership of the ANC has already transformed the landscape of South African politics by prompting a breakaway by Mbeki loyalists to form the opposition Congress of the People -- or Cope. "Stop Zuma" was also an election slogan of the official opposition Democratic Alliance.

Critics suggest Zuma's election to the presidency could mark the end of the era of consensus politics which has characterized South African democracy since Mandela and the ANC swept to power in the country's first post-apartheid elections 15 years ago.
But Zuma has pledged that the ANC will use its majority responsibly. "We will not ride roughshod over the rights of the people or bulldoze other parties into submission," he said at a pre-election news conference.
E-mail to a friend

All About South Africa • Politics • African Politics