By Iolanda Jacquemet
ICRC





This year marks the 150th anniversary of the Battle of Solferino which led to the creation of the International Committee of the Red Cross. The ICRC is using the date to launch an awareness campaign of its work in conflict-affected countries, featuring photos taken by five award-winning photojournalists. This week we're bringing you stories from some of the world's most troubled countries, as told by the ICRC.
SAKE, Democratic Republic of the Congo (ICRC) -- For the past 15 years, "Mama Bona" has taken care of dozens of children who have been abandoned, separated from their families and orphaned in the long-running conflict in the Democratic Republic of the Congo.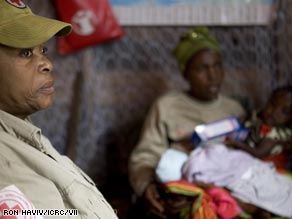 Mama Bona, on the left, is also known as "Mama Africa." "God has given me the gift to help children," she says.
When she cannot find a family to host them, they are welcome to stay at her house. Most are Congolese or Rwandan.
"Each time there is a war in Congo, women get killed or raped, and many children are left on their own. They are homeless and live like vagrants," Mama Bona told the ICRC.
Sitting in her small hut in the town of Sake, in North Kivu, the 49 year old Red Cross volunteer speaks with decisiveness and determination.
"Take little Baraka," she says, showing a tiny baby girl who is feebly crying at the breast of a woman seated opposite her.
"Last November, I was going with other volunteers to bury dead people whose bodies had been left on the road or in the fields. I met this woman. She had found the baby on the body of her mother, who had given birth just before being killed. She asked me what to do. I said, 'You are breastfeeding your own baby, aren't you? So keep this little one, and I will help you.'"

See photos of Baraka and other lost and orphaned children »
Mama Bona started finding new homes for abandoned and orphaned children in the early 1990s. The war in Rwanda had spilled over to Eastern Congo. Among those fleeing violence were thousands of children who had been left on their own.
Don't Miss
"The Red Cross opened an orphanage in Kirotshe," Mama Bona says. "After registering the children, we were trying to reunite them with their families whenever possible. But we realized quickly that an orphanage was not the best solution one could think of. The children felt abandoned and we were lacking space. So we decided to turn to host families."
Placing unaccompanied children and orphans with host families proved a natural solution. In Congo, as in many African countries, the notion of family is flexible and children are often raised by the whole village they live in.

See what life is like for the Congo's lost and orphaned children »
Typically, Mama Bona contacts the community leader and, together, they identify families to take care of the children. In the best case, the little ones stay until a relative can be located, but many children end up growing up in their new host families.
"God has given me the gift to help children," Mama Bona says with a smile. "There have been 158 to date. Everybody around here knows about me. People bring me every unaccompanied child they come across." Mama Bona supervises a number of other Red Cross volunteers who, in turn, are in charge of keeping in touch with 10 to 15 families each. When things go wrong, everybody turns to her.
"When a child is sick and needs medicine, when there is not enough food, or when there is no money to pay for the school, host families come and see me. It is sometimes difficult. I am myself a widow, with few resources. But I somehow always manage to help," Mama Bona says. "People trust me. They are always ready to give used clothes, food, or whatever it takes."
On the day I spoke with Mama Bona, Noella Senawema, who looks after little Baraka, has a serious problem. The baby is sick, and she has no food for her. The infant looks malnourished. "Noella does not have enough milk for two babies," Mama Bona explains. "She is a war widow with six children of her own. She cannot afford to buy baby formula."
A Red Cross volunteer gives Noella some money for the formula and tells her to go as quickly as possible to the local feeding center. "Baraka's condition will soon improve," she asserts with confidence.
Red Cross/Crescent Web sites
Each time she has not been able to find a host family, Mama Bona has opened wide the doors of the house she owns in a crowded neighborhood of Goma, the main city in North Kivu. Four Rwandan children, aged eight to 16, have lived with her for years and, she adds proudly, "they all go to school."
There is also little Stephanie. "She was only three days old when her mother died from a bullet wound," Mama Bona recalls. "My eldest daughter had just delivered. She volunteered to take care of Stephanie, who is now, at 18 months, a beautiful girl."
With her own 12 children, she momentarily loses count of her own grandchildren, but with all those she has helped over the years, her fellow colleagues say she rightfully deserves to be called "Mama Africa."
Mama Bona's efforts are part of a wider range of activities carried out by the International Committee of the Red Cross (ICRC) and the DRC Red Cross to assist and protect the victims of armed conflict and violence. Together they reunited more than 820 separated relatives, mainly children, between 2007 and 2008.

For more about this topic go to the ICRC Web site.
Have you been affected by conflict? Send your photos and stories to iReport.
E-mail to a friend

All About Democratic Republic of the Congo