(CNN) -- Malawian President Bingu wa Mutharika was re-elected to a second term, election officials said early Friday, amid allegations of vote rigging by the main opposition candidate.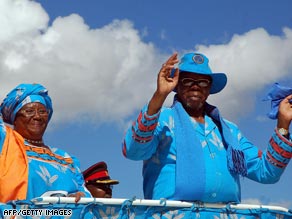 Malawian President Bingu wa Mutharika, right, and running mate Joyce Banda wave in Blantyre on May 14.
Mutharika, a western-educated economist, was declared the winner in the African nation with about 2.6 million votes. Opposition front-runner John Tembo received about 1.2 million votes, the Electoral Commission said.
Tembo vowed to challenge the results, citing vote irregularities, local media reported.
"(The) Malawi Congress Party ... will not accept the results if Dr. Bingu wa Mutharika and the Democratic Progressive Party are declared winners in these elections," the opposition party said in a statement signed by Tembo late Thursday, according to Malawi's Daily Times.
Mutharika's commanding lead earlier in the counting process prompted his predecessor-turned-rival Bakili Muluzi to congratulate him in a phone call, local media reported.
Muluzi, who was president from 1994 to 2004, has had frosty relations with Mutharika over the past few years. Mutharika was elected under the former president's United Democratic Front Party in 2004, but left it soon after and formed the Democratic Progressive Party.
Mutharika, 75, is known for his tough anti-corruption stance and has accused former party members, including Muluzi, of not being receptive to his policies. The two political heavyweights have been embroiled in a power struggle that has dominated Malawian headlines in recent years.
The former president recently sought to have the rules changed by the nation's election commission so that he could run against Mutharika. His petition was rejected a few days before the election.
Muluzi campaigned for Mutharika in the previous election but supported Tembo this year.
Malawi, one of the world's poorest countries, has enjoyed a vibrant economy and relative stability compared to others in the region. In nearby Zimbabwe and Kenya, flawed elections last year led to chaos and the reluctant formation of coalition governments.
E-mail to a friend

All About Malawi