(CNN) -- Former Congolese vice president Jean-Pierre Bemba is Monday due to appear before the International Criminal Court, where he faces war crimes charges of rape, torture and pillaging during civil war in the African republic.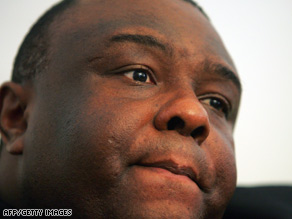 Jean-Pierre Bemba is seen here in October 2006 in Kinshasa, Democratic Republic of Congo.
Bemba, who was arrested near Brussels in May, is accused by the ICC of commanding a rebel group that carried out a widespread attack against civilians between October 2002 and March 2003.
He is scheduled to appear before the independent court in The Hague, Netherlands for a procedural hearing on his continued custody, the ICC's press office said.
Bemba, head of the rebellious Movement for the Liberation of Congo, was one of four vice presidents in the transitional government of the Democratic Republic of Congo from 2003 to 2006.
He was involved in a power-sharing government created in 2002, which allowed members from four rebel groups to fill each of the four vice presidential seats.

The agreement was supposed to resolve a conflict that sucked in the armies of six nations, split the vast country into rebel- and government-held regions and killed an estimated 2.5 million people, mainly through disease and hunger.
War broke out in Congo in August 1998 when Rwanda and Uganda backed Congolese rebels seeking to oust Congo President Laurent Kabila, accused him of supporting groups, including the Hutu militia, which threatened their security. Kabila was assassinated three years later.
E-mail to a friend

All About Democratic Republic of the Congo • World Politics