By Robyn Curnow
CNN





JOHANNESBURG, South Africa (CNN) -- Former South African president Nelson Mandela is celebrating his 91st birthday Saturday -- as his wife reveals he is struggling to deal with the indignities of aging.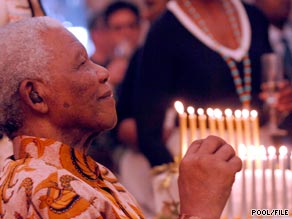 Global initiative aims to ensure Mandela's legacy is maintained for the next generation.
Graca Machel told CNN in an exclusive interview that the Nobel Peace Prize winner was finding it difficult to come to terms with the limitations of age but he is fighting to carry on working with his charities.
Mandela spent 27 years in jail before his release and was elected as South Africa's first black president in 1994. The veteran anti-apartheid campaigner is using his birthday to promote a message of helping others.
Machel said Mandela was too frail to travel overseas to the New York launch of the new charity initiative Mandela Day.
Mandela, whom she calls Madiba, was spending the day at home in Johannesburg with his family.
His wife said he still keeps busy working with his charities but has slowed down, something he finds frustrating.
"Madiba is a very proud person. He is vain so when he realizes that he can't walk tall and firm like he used to be, he doesn't like it."
In an unusually blunt statement on his weakening health Machel also explained how hard it was for her to see him getting so old. "To see him aging is something that pains you. You understand you know it has to happen. That spirit, that sparkle, some how is fading."
Even with his spirit "fading," Mandela's moral authority remains intact which is why Mandela Day aims to promote the values of Nelson Mandela long after he is gone.
The global initiative aims to ensure his legacy is maintained and nurtured for the next generation.
Mandela and his charities are using his birthday, July 18, to urge everyone to do good things for other people.
Zelda la Grange, Mandela's personal assistant and one of the organizers of the first annual Mandela Day, said: "Mandela gave up 67 years of his life for the anti-apartheid struggle, so we are asking people to give up 67 minutes of their day on July 18."
Don't Miss
She explains that Mandela was 24 when he became active in politics.
Mandela said in support of the initiative: "Our struggle for freedom and justice was a collective effort. Mandela Day is no different.
"It is in your hands to create a better world for all who live in it. Mandela Day will not be a holiday but a day devoted to service."
For Mandela and his wife, Mandela Day is a "way of demystifying, that only extraordinary people can do can make a difference."
Everyone, she says, can be a little like Mandela if you "care about others, you care about their wellbeing, you want them to have a real smile, they feel worthy, they are loved, they are cared and that's what you can do."

Mandela's daughter, Zindzi agreed, saying: "It's up to you whether you prefer to mow your neighbor's lawn, or you prefer to go help run a soup kitchen.
"It's all about that living the legacy because now he's handing it over to future generations."
E-mail to a friend