LAGOS, Nigeria (CNN) -- As many as 150 people may have been killed as Islamic militants battled Nigerian government police and troops Sunday and Monday in the north-central part of the nation, officials said.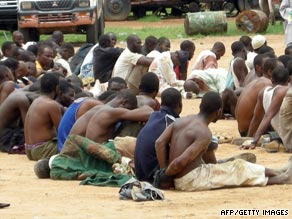 More than 150 alleged militants were arrested by Nigerian police after clashes.
Police and troops were dispatched to the militants' hideouts after militants began attacks on government establishments early Sunday, said police spokesman Moses Anegbode.
As authorities exchanged fire with the militants, 41 people, including a soldier and a policeman, were killed, Anegbode said. In addition, some 176 people were arrested in Bauchi, he said.
Besides Bauchi, militants also staged attacks on the nearby states of Yobe and Borno on Sunday and Monday, said Emmanuel Ojukwu, spokesman for the national police.
Yobe police Commissioner Alhaji Muhammed Abbas said that 23 suspected militants were arrested in connection with a bomb attack in at a police station in Potiskum that killed a policeman and a civilian and wounded seven more.
The official News Agency of Nigeria reported that as many as 100 members of a religious sect led by Sheikh Mohammed Yusuf may have been killed in a confrontation with police.
Don't Miss
In Borno, police spokesman Isa Azare said that two policemen were killed in an attack on police headquarters late Monday.
"The religious fanatics took the police unawares," Azare told the government-affiliated New Nigerian newspaper. "That was why they succeeded in killing all the officers on night duty."
Panicked residents stayed inside in all three states, and businesses shut down, but officials said the situation was under control.
The militants used guns, bows and arrows and machetes in the attacks, officials said.
The militants disagree with the government's teaching of Islam in the region, maintaining that the government allows itself to be influenced by Western values, and have been attacking government establishments and Islamic clergy.
There is a history of religious violence in central Nigeria, where majority-Muslim north Africa meets largely Christian sub-Saharan Africa. Human Rights Watch estimates that more than 1,000 people were killed in riots in 2001.
The human rights organization alleged last week that police and soldiers killed at least 133 people during two days of riots between Muslims and Christians in Nigeria last year.
Most of the victims were young Muslim men, often unarmed, the group charged in testimony before a state commission examining the riots and in a separate report. More than 700 people died in the violence, the group said, citing local religious authorities on both sides of the divide.
E-mail to a friend

CNN's Christian Purefoy contributed to this report.