From Christian Purefoy
CNN





LAGOS, Nigeria (CNN) -- Mohammed Yusuf, the leader of a fundamentalist Islamist sect who was initially reported captured Thursday by the Nigerian military, is dead, said a spokesman for the governor of the state of Borno.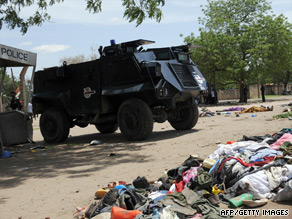 The bodies and clothes of militants lie in a street in the northern city of Maiduguri.
"I have just come from the police station and seen his body," said Usman Ciroma, chief secretary to the governor of Borno. "I believe he was killed in a shoot-out. ... I saw his body with bullet wounds."
Earlier in the day, Col. Ben Ahonotu, the commander of the Nigerian government security forces' operation in the north, said Yusuf had been captured, described him as "healthy" and said he would be turned over to police.
Yusuf's sect, known as Boko Haram, wants the government to impose Islamic law, or sharia, in the entire Muslim-dominated northern section of Nigeria. Sharia already is practiced in some northern states, but the sect wants even tougher religious laws. The sect also opposes Western education.
Southern Nigeria is predominantly Christian.
Don't Miss
At least 400 rebels, troops and civilians have died since the fighting began Sunday, triggered by the arrest of some members of Boko Haram.
The group retaliated by attacking police, military and government institutions in Bauchi state. The violence quickly spread to three other states, prompting a major response by troops.
Nigeria's military claimed Thursday that it had raided the sect's compound and killed one of its leaders as the battles intensified.
On Wednesday, troops seized control of a Boko Haram stronghold in the city of Maiduguri in Borno and killed the deputy leader of the group, Ahonotu said.
E-mail to a friend

All About Nigeria • Islam • Christianity