From Christian Purefoy
CNN





LAGOS, Nigeria (CNN) -- Human rights groups pressed Friday for information on how a fundamentalist Islamist sect leader died and are seeking an investigation.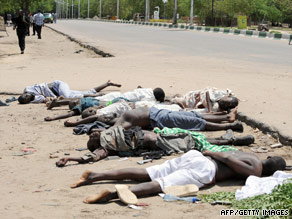 Bodies of hard-line Islamic rebels killed in battle lie in a Nigerian city. Civilians and troops also have died.
Mohammed Yusuf was initially reported captured Thursday by the military, but was found dead after he was turned over to police.
There has been no official explanation of Yusuf's death.
"We demand a full investigation into the circumstances of Mohammed Yusuf's murder," Shehu Sani, president of the Civil Rights Congress, said Friday. "Whether he was a militant leader or armed rebel, dying in police custody is not same as dying in armed combat."
Fighting broke out Sunday in northern Nigeria when armed men reported to be members of Yusuf's sect, Boko Haram, attacked a police station.
Subsequent attacks on police and government targets have been reported in Borno, Yobe, Kano and Katsina states.
Boko Haram wants the government to impose strict Islamic law, or sharia, in the entire Muslim-dominated northern half of Nigeria. Sharia already is practiced in some northern states, but the sect wants even tougher religious laws. The sect also opposes Western education.
Southern Nigeria is predominantly Christian.
"Mohammed Yusuf's corpse was displayed outside police headquarters in Maiduguri all night for people to see," said Murtala Sani Hashim, who is with the group Jamat Nasril Islam -- the second-highest ranking Islamic body in Nigeria.
"I believe he was killed in a shoot-out. ... I saw his body with bullet wounds," Usman Ciroma, a spokesman for the governor of the state of Borno, said Thursday. "I have just come from the police station and seen his body."
Amnesty International and Human Rights Watch added their voices to the criticism Friday, with the former group condemning what it said were illegal killings by Nigerian security forces during the fighting, according to a written statement.
The group urged the inspector general of police to publicly state that anyone responsible for illegal killings during operations in northern Nigeria will be brought to justice.
According to Amnesty International, there have been at least 55 deaths and 176 arrests in Bauchi.
"This is certainly the most high-profile case of extra-judicial killing, but it is not uncommon. That is why it needs much more attention," said Eric Guttschuss of Human Rights Watch in a statement.
"There is a long history of abuse by security forces, such as arbitrarily killing suspects," Guttschuss said.
"Nigerian authorities must promptly act to remove Borno police commissioner and instigate an impartial investigation into the killing of Mr. Yusuf and any other abuses during recent clashes.
"By brazenly killing Yusuf, the Nigerian security forces have run roughshod over the concept of rule of law in Nigeria," Guttschuss said.
At least 400 rebels, troops and civilians have died since the fighting began Sunday, triggered by the arrest of some members of Boko Haram. .
E-mail to a friend