This week on African Voices, two Zimbabwean writers share their own very personal experiences and recollections of their homeland.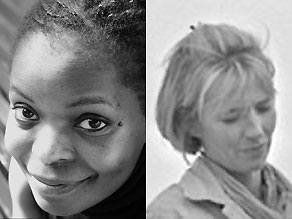 Gappah (l) and Fuller have different stories to tell, but a shared link to Zimbabwe.
Alexandra Fuller now lives in the Rocky Mountains region of Wyoming, a world away from her days growing up in Zimbabwe during the country's civil war. Her 2001 memoir, "Don't Let's Go To The Dogs Tonight: An African Childhood" was a highly individual account of that period.

Having already published short stories, Petina Gappah is working on her first novel. Based in Switzerland for the last 10 years her connection to her homeland and its people remains strong and is reflected in her critically acclaimed novellas.
Watch African Voices on CNN International on Saturday August 15, 12.30 and 21.30 GMT; Sunday August 16, 18.00 GMT and here online.
E-mail to a friend