By Faith Karimi
CNN






CNN -- Voters in the western African nation of Gabon went to the polls Sunday to elect a successor for President Omar Bongo, who died in June after more than four decades in office.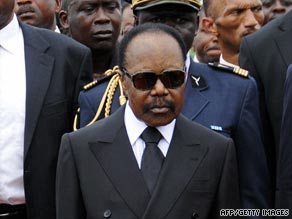 Gabon voters are electing a successor to former President Omar Bongo, who died in June.
Africa's longest-serving ruler, Bongo, 73, suffered a cardiac arrest while being treated for intestinal cancer at a hospital in Barcelona, Spain.
His son, Ali Bongo, a candidate for the ruling Gabonese Democratic Party, appeared to be a leading contender.
The election started off with 23 candidates, but five dropped out over the weekend to support the opposition, said Archippe Yepmou, an activist who advocates for press freedom.
The group that pulled out is backing Andre Mba Obame, an ex-interior minister who is running as an independent, Yepmou said.
As voting continued into the afternoon, some opposition candidates decried the ballot, saying accusations of rigging could stoke ethnic tensions.
"There are reports of irregularities, voters are being turned away, there is a lot of confusion," said Alice Backer, spokeswoman for presidential candidate Bruno Ben Moubamba. "People are confused, some candidates quit and they are still on the ballot; some people don't know what to do."
There is a danger of violence spurred by ethnic polarization if the election is not fair, Backer said.
The elder Bongo took power in 1967, seven years after Gabon's independence from France.
He imposed one-party rule a year after succeeding the country's first president, who died in office. He allowed multiparty elections after a new constitution in 1991, but his party retained its grip on the government despite that.
The tiny, oil-rich nation of about 1.5 million has a per capita income four times that of most sub-Saharan African nations, according to the CIA World Factbook.
Despite its wealth, which also comes from timber exports, a large percentage of its population lives in poverty because of poor financial management and the huge gap between the rich and the poor.
E-mail to a friend

All About Gabon • Elections and Voting • West Africa