From Nic Robertson
CNN Senior International Correspondent





LONDON, England (CNN) -- Libya pressured the British government to include convicted Lockerbie bomber Abdelbeset Ali Mohmed al Megrahi in a 2007 prisoner release agreement tied to trade deals between the two countries, Saif al-Islam Gadhafi told CNN on Friday.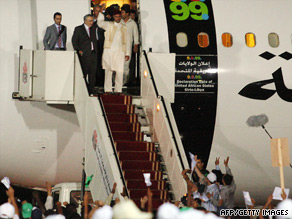 Abdelbaset Ali Mohmed al Megrahi (second from left) arrives in Tripoli, Libya, on August 21.
Britain refused, telling the Libyans that al Megrahi would not be eligible under an overall prisoner release agreement. Gadhafi, the second-eldest son of Libyan leader Col. Moammar Gadhafi, said the refusal angered the Libyans.
"There was no mention of Mr. Megrahi until the British said, 'we are ready to sign but there should be a clause mentioning that Mr. Megrahi is excluded.' And then we said no," Gadhafi said. "We were very very angry. It's not acceptable."
The agreement was eventually signed late in the year.
Gadhafi, who was involved in the negotiations for the prisoner release deal, accompanied al Megrahi back to Libya last month after he was freed from a Scottish prison on compassionate grounds.
Al Megrahi was released because he suffers from terminal prostate cancer, and Gadhafi said his release was not part of the trade deals.

Watch Nic Robertson interview Saif al-Islam Gadhafi »
"The decision was based on compassionate grounds, not because of business deals," Gadhafi said. "It was obvious. The guy is sick, seriously sick. He has cancer and because of that they made the decision and I think it was the right decision."
Don't Miss
In an interview with Libyan channel Al Mutawassit on board the plane that carried al Megrahi from Scotland to Tripoli on August 21, Gadhafi said that al Megrahi "was always on the negotiating table" during the talks, prompting British officials to flatly deny that al Megrahi's release was predicated on any deal.
"It's not only completely wrong to make any such suggestion, it's also quite offensive," Peter Mandelson, Britain's secretary of state for business, said in an interview.
"The idea that the British government and the Libyans would sit down and somehow barter about the freedom of this Libyan prisoner to form some sort of business deal ... it's not only wrong, it's completely implausible," he said.
Gadhafi told CNN that the prisoner release agreement was negotiated for seven years -- though al Megrahi was not mentioned by name -- and was part of "normal" negotiations between the two countries that included security issues and oil.
Earlier this week, a senior Libyan government official who has direct contact with al Megrahi said that his health had "weakened" significantly since he was freed from the Scottish prison last month. He was not in the emergency unit or intensive care, said the official, who did not want to be named, but he was "in bad shape."
Had al Megrahi died in a British jail, Gadhafi said, relations between the two nations would have been strained.
"Do we think we will be happy to let him die in the jail? Gadhafi said. "Of course not. He is a Libyan citizen."
Al Megrahi was convicted of killing 270 people by bombing Pan Am Flight 103 over Lockerbie in Scotland in 1988. He was sentenced to life in prison.

Gadhafi said his release was on the condition that Libya would drop any appeals.
"But we are still asking for an independent inquiry," Gadhafi said. "We have nothing to do with Lockerbie and Mr. Megrahi is innocent."
E-mail to a friend

All About Pan American Airways • Lockerbie • Libya