By Tricia Escobedo
CNN





(CNN) -- An online report has identified a Somali-American from Seattle, Washington, as one of the suicide bombers who killed 21 peacekeepers in Mogadishu, Somalia, last week.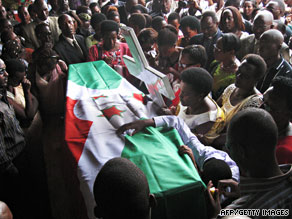 A casket of a peacekeeper killed in last week's attack in Somalia arrives Saturday in the victim's country, Burundi.
The Somali-language Web site Dayniile.com said the bomber lived in Washington until 2007. The report could not independently be confirmed.
An FBI spokesman in Seattle, Fred Gutt, said investigators are aware of the report, but he declined to comment about it in detail. When asked if the FBI was looking into the report, Gutt said only that "we have continuing outreach efforts with the [Somali-American] community."
Federal agents have been investigating possible recruiting efforts in the United States by Al-Shabaab, a Somali group with ties to al Qaeda that the U.S. classifies as a terrorist organization.
More than a dozen young men of Somali descent have disappeared recently from their homes in and around Minneapolis, Minnesota, which has a sizable Somali population, as does Seattle. At least three have ended up dead in Somalia, community leaders say.
One of the young men who disappeared from around Minneapolis, 27-year-old Shirwa Ahmed, blew up himself and 29 others last fall in Somalia. It is believed to be the first suicide bombing carried out by a naturalized U.S. citizen.
Another former Minneapolis man, Jamal Bana, 20, turned up in Somalia and was later shot to death. His parents learned of his death when a friend urged them to look at a Web site; there they saw a photo of their son's body. They say they believe he was brainwashed and recruited to fight in the war between Somalia's unstable transitional government and Al-Shabaab.
In an attack September 17, suicide bombers drove vehicles with United Nations markings into the headquarters of an African Union peacekeeping mission in Mogadishu. The vehicles blew up inside the compound, killing at least 21 people, the mission said.
On Tuesday, Dayniile.com reported that at least one of the bombers was a Somali-American who left the United States two years ago. The Web site is operated by members of the Murusude clan, who make up the majority of Al-Shabaab.
A Somali community leader in Minneapolis, meanwhile, has been looking into the possibility that one of the bombers may have been among the men who are missing from around Minneapolis. Omar Jamal, the community leader, said he heard from an Al-Shabaab spokesman last week that the bombers spoke fluent English.
"They were pretending to be U.N. staff ... and when they reached the gate [of the peacekeepers' headquarters] they engaged in the English language, and that's why they let them in," Jamal said the spokesman told him.
That account also could not be verified independently.
E-mail to a friend

Journalist Mohammed Amiin Adow contributed to this report.
All About Somalia • Al Shabaab • Al Qaeda