NEW YORK (CNN) -- South African President Jacob Zuma acknowledged Friday that his country is beset by a high crime rate, but vowed it will be prepared to host the 2010 World Cup.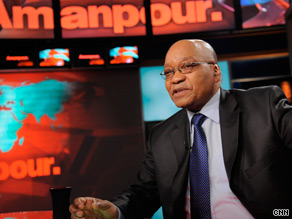 Jacob Zuma on "Amanpour" set.
As many as 50 South Africans in the nation of 49 million people are killed daily, according to the latest government statistics.
Zuma acknowledged the high numbers, but said "the reason people know more details about the crime in South Africa is because we are extraordinarily a transparent country. That's an important point to take."
He noted that South Africa is not the only country facing high crime. "It is true, also, that the Americans that have a lot of crime and the capital is not running away," he said.
Zuma added that fighting crime is one of his administration's top priorities, and said the nation's leaders "are ready to deal with this matter very seriously; in fact, we have started to do so."
Zuma predicted South Africa will be prepared to host next year's World Cup games. "We're setting up and ready," he said. "There's no doubt about it.
"With regard to violence or violent crime, this is what we are dealing with. We have a plan to deal with it, a very detailed plan, particularly dealing with 2010, with regard to crime."
Zuma was in New York to attend the U.N. General Assembly meeting. The entire interview with the South African president is slated to run at 10 p.m. ET on CNN's "Amanpour."
E-mail to a friend