LONDON, England (CNN) -- A $5 million prize to reward good leadership in Africa was dramatically awarded Monday to ... nobody.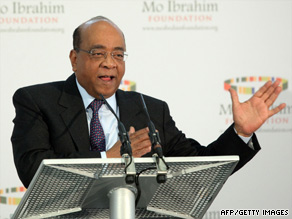 Businessman Mo Ibrahim talks about the prize at a news conference in London, England, on Monday.
It was the first time in the three-year history of the Mo Ibrahim Prize that the committee did not name a winner.
"The Prize Committee has considered some credible candidates. However, after in-depth review, the Prize Committee could not select a winner," the committee said in a statement.
Democratically elected African presidents and prime ministers who have left office within the last three years are eligible for the prize. Former South African President Thabo Mbeki and Ghana's ex-President John Kufuor were among those eligible this year.
Ibrahim, who spoke at Monday's event, said the board has accepted the independent prize committee's decision. He laughed off a question about whether the award was not given because there was not enough money to pay the prize.
"Unfortunately, the prize committee [does] not pay any attention to my bank statement; actually, they don't see it," Ibrahim said. "The prize committee is a closed body, and they take the decision in complete isolation from the board. We must respect that decision."
Ibrahim, a Sudanese-born businessman who made a fortune in the cell phone industry, established the foundation bearing his name in 2006. According to Ibrahim, when the foundation began awarding the prize, he said at the time "that there may be years when no winner is chosen, and this is such a year."
Former United Nations Secretary-General Kofi Annan chaired the prize committee, which also included last year's Nobel Peace Prize winner Martti Ahtisaari; Mohamed ElBaradei, the director general of the International Atomic Energy Agency and another Nobel laureate; Graca Machel, chancellor of the University of Cape Town, South Africa, and former minister of education and culture in Mozambique; Mary Robinson, former president of Ireland and former U.N. high commissioner for human rights; and Salim Ahmed Salim, a former prime minister of Tanzania.
The prize is worth more than three times as much money as the Nobel. Last year, it went to Festus Gontebanye Mogae, the former president of Botswana. And the year before that, it went to Joaquim Alberto Chissano, the former president of Mozambique.
E-mail to a friend

CNN's Phil Black in London, England, contributed to this report.
All About Africa • Thabo Mbeki • Kofi Annan