Madonna visiting Malawi to launch school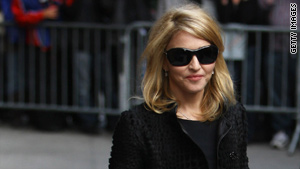 Madonna is building a school in Malawi, an impoverished nation in southern Africa.
STORY HIGHLIGHTS
Madonna to help break ground in Malawi on Monday for a school she's building
She has adopted two children from Malawi, who went on trip with her
Singer has been involved with Malawi for several years, made documentary on it
Malawi, in southern Africa, is one of the world's poorest nations
(CNN) -- Pop star Madonna plans to help break ground in Malawi on Monday for a school she is building in the impoverished southern African nation, from which she adopted two children.
The school -- Raising Malawi Academy for Girls -- will focus on empowering women to become leaders, the singer said on a Web site run by her charity. It will be built in the capital, Lilongwe.
"Our goal is to teach them to challenge themselves, serve their local communities and develop their country," she said. " ... Research proves that young girls throughout the developing world are often left without opportunities to receive a comprehensive education."
Madonna, 51, said her four children accompanied her on the trip -- including two adopted from the country. David Banda, 4, was adopted in 2006 and Chifundo "Mercy" James, 3, earlier this year.
Mercy's adoption petition in April was mired in controversy. A judge at first rejected the application, based on a minimum residency required for foreigners who adopt. The rejection followed criticism by human rights activists, who said the singer was using her fame to circumvent the law.
The singer appealed the decision, and Malawi's high court ruled in her favor in June, clearing the adoption. The residency condition was waived in 2006, when Madonna adopted David.
The singer has been involved with Malawi for several years and made a documentary, "I Am Because We Are," to highlight poverty, AIDS and other diseases devastating children in the country. She also co-founded the nonprofit Raising Malawi, which helps feed, educate and provide medical care for the needy.
The nation of about 13 million is one of the poorest in the world.