Protesters clash with police in Egypt near Algerian Embassy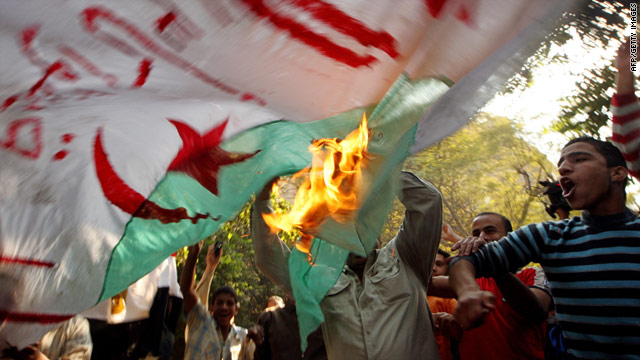 STORY HIGHLIGHTS
Protesters clashing with riot police clashing near Algerian embassy in Cairo
Violence follows Algeria's victory over Egypt in a World Cup qualifier soccer match
Egypt has recalled its ambassador to Algiers "for consultations"
Disputes began on November 12, when Egyptian fans stoned the Algerian team's bus
Cairo, Egypt (CNN) -- Hundreds of angry demonstrators in Egypt's capital fought with police near the Algerian Embassy early Friday, the Interior Ministry said.
The clashes in Cairo stem from tensions over Algeria's victory over Egypt in a World Cup qualifier soccer match and earlier fights between soccer fans in the North African countries.
The ministry said 39 security forces were wounded in the clashes, and cars and stores were damaged in Zamalek, an island in Cairo on the Nile River. At present, there is a strong security presence in the area with truckloads of riot police and more than 1,000 security forces.
A series of clashes between Egyptian and Algerian soccer fans also has led to a diplomatic row between the two North African countries, with Egypt recalling its ambassador to Algiers on Thursday.
Husam Zaki, a spokesman for Egypt's Foreign Ministry, said Cairo has asked its envoy to return from Algeria "for consultations" after a week of tensions over qualifying matches for the FIFA World Cup.
Egypt's withdrawal of its ambassador followed Algeria's refusal Thursday to allow an Egyptian plane to land. The aircraft was dispatched to evacuate Egyptian citizens from Algiers, where press reports said Egyptians have been harassed by Algerian fans.
In addition, Algeria socked Egyptian telecommunications giant Orascom with a nearly $600 million bill for back taxes this week, an assessment Orascom said was based on "unfounded and unacceptable" claims about its accounting.
The disputes began November 12, when Egyptian fans stoned the Algerian team's bus upon its arrival in Cairo and injured several players. FIFA, the sport's world governing body, announced Thursday that it had opened disciplinary proceedings against the Egyptian Football Association as a result of the attacks.
Scuffles between Egyptian and Algerian fans in Cairo and in Algiers followed the Egyptian team's 2-0 victory in Saturday's match, with Egyptian-run businesses reportedly attacked in Algiers.
Both governments arranged for additional flights to get fans to Sudan's capital, Khartoum, for a Wednesday night playoff, which Algeria won 1-0. The win gives Algeria its first shot at the FIFA World Cup in 24 years, and it prompted more reports of anti-Egyptian violence in Algiers.
Another soccer row has ruffled diplomatic feathers in Europe in the game between Ireland and France.
French forward Thierry Henry admitted to using his hand illegally to set up the goal that gave his team a 2-1 victory on Wednesday. FIFA, the governing body of world soccer, turned down an Irish Football Association's request that the game be replayed.