STORY HIGHLIGHTS
Arguments rage around Southern Sudan's oil fields

German rights group alleges water pollution; claims denied by oil industry

Most of the oil is in southern Sudan but revenues are controlled by Khartoum

Regional governor wants more say in oil industry

Unity State, Sudan (CNN) -- With production levels of a half-million barrels of oil a day and rising, Sudan's oil should be a blessing for its people, but is it a curse?
A German human rights group says pollution in certain oil fields in Southern Sudan is contaminating the drinking water and hurting the local population. CNN traveled to the oil fields of Unity State to investigate the reports.
It is not a place that gets many visitors. The oil processing facility of the Greater Nile Operating Company is in a remote part of southern Sudan, near the poor and dusty communities of Unity State.
We're able to get in with the Governor of Unity State, Taban Deng, though it's clear we are not welcome. A company security agent takes photos throughout our visit.
The governor is a worried man. He knows that oil exploration has the potential to change Southern Sudan, but he's anxious that the benefits will be siphoned off by the government in Khartoum, despite revenue-sharing agreements.
As we walk around the plant, Deng's frustration shows. "If you ask me how do we produce this oil, how do we market it, how do we divide the revenue of the oil, Southern Sudan is not party to that."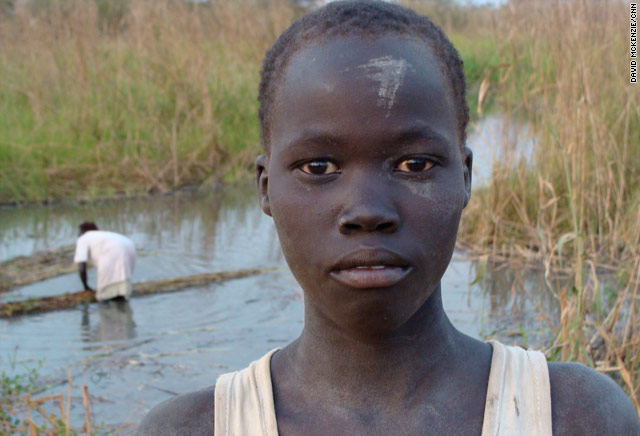 Gallery: Sudan's oil curse

Video: Sudan's paradise lost?
Greater Nile is not a Sudanese company. Its major shareholders are Chinese, Malaysian and Indian companies; the Sudanese government has a minor stake. It's one of several operating in this vast area -- gaining a toehold in what may be the next big 'oil story.'
It's already a billion-dollar industry with vast untapped reserves throughout Southern Sudan.
It's not just about how to share the profits. Deng says local people complain of new sicknesses since oil exploration began. "There is a lot of pollution in the oil fields. The water [that] is separated from the oil is left uncontrolled."
Greater Nile says it has conducted tests that refute such claims and told CNN its plants comply with international environmental standards.
But there are disturbing allegations about environmental damage in a nearby oilfield operated by White Nile Petroleum, in which the Chinese and Sudanese state oil companies have substantial shares.
A German group, "Sign of Hope," has spent 18 months taking and testing more than 50 water samples and has submitted its results to the United Nations. It says it has found "persuasive" evidence of contamination.
Hydrologists working for the group found salinity and nitrates in drinking wells near White Nile's oil fields that were many times the internationally recommended levels. They also found high concentrations of minerals such as cadmium and lead in mud pits at more than 30 abandoned boreholes.
The group claims these heavy metals could find their way into drinking water supplies, and says it found chromium in one well that measured eight times the WHO guideline. Chromium is a known carcinogen.
The company did not return several calls seeking comment, but on its Web site says the claims of 'Sign of Hope' are baseless. White Nile says it continuously tests the quality of its waste water and adheres to the highest international standards. It adds that high levels of salinity are natural in the area's swamplands.
If this part of Southern Sudan was endless desert, the argument might be less significant. But the oilfields are on the edge of the Sudd, the largest wetlands on Africa, and an area certified by the United Nations in 2006 as of international importance.
Stretching over 30,000 square kilometers, the Sudd supports an array of wildlife and waters adjacent pastureland. It acts both as a huge sponge and a filter for much of east Africa and is vulnerable to pollution and degradation.
The Nuer people who live in the village of Rier, at the edge of the Sudd and the oilfields don't have the means to test the water they and their livestock use. Nor does the regional government, which says only that it's "suspicious" of the water quality in this area.
The villagers just relate what they see. One of them, John Mayal, says that before the oil companies arrived "our cattle didn't die and our children didn't die. Our water was good...now the water is bad."
There is no independent evidence that the oil companies' operations have caused sickness or death; and they certainly deny that. But Deng told CNN oil exploration here has been characterized by one word: mismanagement. "Mismanagement of the resource itself. Mismanagement in the area of protecting the environment , mismanagement in lack of transparency in telling how much we are producing a day."
Production-sharing agreements, scientific analysis of water, drilling technology -- all of that is beyond the people of Rier, whose homes were moved three years ago to make way for oil installations.
They live alongside the best road in Southern Sudan, built by the oil companies, and next to the pipeline that takes the oil north to be refined and exported.
But they are some of the poorest people in the world; reduced to collecting reeds along the roadside for the roofing of their traditional dwellings.
And they collect their water from a huge steel tanker parked in the village by White Nile Oil. They don't trust the wells they have used for centuries.