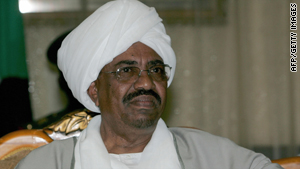 The International Criminal Court has issued a warrant for Sudan's President Omar al-Bashir.
STORY HIGHLIGHTS
Ambassador to U.N.: Sudan won't comply with a warrant from International Criminal Court
ICC warrant calls for Sudan to hand over President Omar al-Bashir to face charges
Charges include war crimes and crimes against humanity
An upsurge in violence has seen more deaths in Southern Sudan this year than in Darfur conflict
(CNN) -- Sudan will never comply with a warrant from the International Criminal Court (ICC) to hand over President Omar al-Bashir to face charges of war crimes and crimes against humanity, Sudan's ambassador to the United Nations told CNN's Christiane Amanpour on Tuesday.
"That would never happen," Abdalmahmood Abdalhaleem Mohamad told Amanpour in a program to be aired Wednesday. "And the United States itself is not a member of the ICC. Let the government of the U.S. join the ICC."
Mohamad strongly defended al-Bashir -- the first sitting head of state to be indicted by the ICC -- saying he is one of the best leaders in Africa. "He put an end to the longest civil war in Africa. The Security Council of the U.N. itself recognized and commended our president. He cannot overnight be a criminal, a war criminal."
Mohamad's remarks came amid rising concern the 2005 agreement that ended the north-south civil war in Sudan, which cost 2 million lives over two decades, is in danger of collapsing. Both sides are accusing each other of fraud and dishonesty ahead of national elections next year and a referendum on possible independence for the south in 2011.
There has also been an upsurge of violence in the oil-rich southern region even though the area is nominally at peace. There have been more violent deaths in autonomous Southern Sudan so far this year -- more than 2,000 -- than in the much better-known Darfur conflict in western Sudan.

Video: Sudanese ambassador speaks out

Video: The ICC's chief proseuctor

Video: North-south split in Sudan
The Sudanese ambassador strongly criticized American lawmakers such as Sen. Sam Brownback, R-Kansas, for asking pointed questions of the U.S. Special Envoy to Sudan, former Air Force Gen. Scott Gration, about whether or not Khartoum is conducting an ongoing genocide.
"What is going on in the United States is really amazing," Mohamad said. "He (Gration) is standing like a student listening to war-mongers telling him what to do in Sudan. We call for engagement, not confrontation."
Mohamad also blasted critics of the Sudanese government's arrest of three prominent Southern Sudan political leaders earlier this week. They were later released. Those arrests prompted demonstrations in Khartoum and other parts of the country, a strongly worded protest by the U.S. State Department on Tuesday, and outrage from the former rebel Sudan People's Liberation Movement (SPLM).
The State Department said, "We condemn all acts of violence in Sudan and call for restraint and dialogue among all parties. We will continue to monitor the situation very closely."
Gration said, "I am deeply concerned about these developments and urge all parties to exercise restraint. Negotiations on issues of urgent importance to all of the Sudanese people cannot proceed in an atmosphere of intimidation."
The SPLM's representative in Washington, Ezekiel Gatrouth, told the "Amanpour" program, "If this continues, we will not have free and fair elections in Sudan next year". He accused police of beating people who were peacefully demonstrating their concerns.
Mohamad rejected any criticism. "It is a very simple issue -- an unlawful demonstration in which the government asked the organizers to seek permission," he said. "This happens everywhere in the world, here in the U.S., the UK, in Europe, Africa, and elsewhere."
Mohammad said it's an "over-exaggeration" to suggest that the central government is targeting Southern Sudan and its leaders. But he added that Khartoum does not want the country to break apart. "Our priority, in accordance with the (peace) agreement, is unity of the country."
He said the idea that the south may vote to secede in 2011 is only a "hypothetical question."
"I think nobody is giving the territorial integrity of a country in a silver plate to anybody," Mohammad said, adding, "This is not only a concern of Sudan, it is a concern of Africa. And the international community cannot afford another failed state in the region."