(CNN) -- Australia is considering a request from the Bush administration to resettle detainees from Guantanamo Bay, though it is unlikely to accept, the prime minister's office said Friday.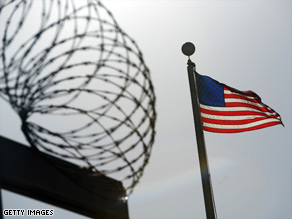 Hope are high that President-elect Barack Obama will close Guantanamo Bay, but inmates need new homes.
The country has declined a previous request from the United States.
Australia is among several countries that have spoken about the issue in recent weeks as a new U.S. administration prepares to take over.
Those countries say they support closing the controversial prison camp, with hopes that President-elect Barack Obama will soon shut it.
But so far, only Portugal has said it is willing to take freed prisoners.
"The time has come for the European Union to step forward," Luise Amado, Portugual's minister of state and foreign affairs, said in December. "As a matter of principle and coherence, we should send a clear signal of our willingness to help the U.S. government in that regard, namely through the resettlement of detainees."
Amado urged fellow EU member nations to accept inmates not considered security risks as a way to help close Guantanamo.
The U.S. State Department told CNN it has been in touch with "dozens" of countries for years about resettling detainees eligible for transfer or release. It renewed those requests to a number of countries in recent months as part of ongoing efforts, said Gordon Duguid, deputy press secretary at the State Department.
The German government acknowledged the difficult issues facing freed prisoners who neither want to remain in the U.S. nor are able to return to their home countries for safety reasons. It pledged last month to hold "intensive talks" with the Obama administration on taking in detainees but made no promises. Like Portugal, it urged common EU action.
"As the first step, it is necessary that the new U.S. administration clarifies the circumstances of closure of Guantanamo and the legality for dealing with then-former detainees," the German Foreign Ministry said in a statement.
"The German government sees no need to take immediate action, but we're examining the matter. We need to consider all legal aspects, plus the issues to be discussed amongst EU nations."
The question of resettling freed prisoners is a thorny one in any discussions about closing down Guantanamo, opened at a U.S. naval base in Cuba in 2002 to house prisoners from Afghanistan.
Australia said it declined a request from the Bush administration in early 2008 to resettle a small group of detainees from Guantanamo. Washington approached Canberra again in early December.
"Australia, as an ally of the United States, is examining this second request," acting Prime Minister Julia Gillard said. "Notwithstanding that it is unlikely Australia would accept these detainees, given the fact that the Bush administration has formally approached Australia with this request, the request demands proper consideration."
Britain has already accepted a handful of Guantanamo detainees but said it had not been asked to take more. All nine British nationals held at the camp returned to Britain in 2004 and 2005, the Foreign Office said, and four former British residents returned in 2007.
Britain is pressing for the release of two remaining former British residents, Binyam Mohammed and Shakar Aamer, and the Foreign Office said it wants to bring them back.
"If asked about whether we're prepared to take others: We haven't been asked," the Foreign Office said in a statement Thursday.
E-mail to a friend