(CNN) -- Australia declined a request from the Bush administration to resettle detainees held by the United States at Guantanamo Bay, the Australian Associated Press agency (AAP) reported Saturday.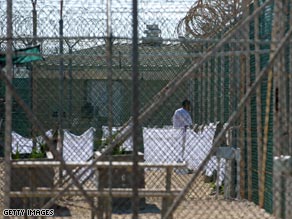 President-elect Barack Obama has pledged to close Guantanamo Bay but hasn't set a specific timetable.
Australia's acting Prime Minister Julia Gillard said each detainee was considered on a "case-by-case basis" and decided that none met her country's "stringent national security and immigration criteria," AAP reported.
Australia turned down a similar request from the Bush administration in early 2008 to resettle a small group of detainees. Washington approached Canberra again in early December.
"We will consider any future requests on a case-by-case basis against these stringent criteria for both national security and immigration," said Gillard, who is acting prime minister while Prime Minister Kevin Rudd is on vacation.
Australia is among several countries that have spoken about the issue in recent weeks as a new U.S. administration prepares to take over. Those countries all say they support closing the controversial prison camp, with hopes that President-elect Barack Obama will soon shut it down.
But so far, only Portugal has said it is willing to take in freed prisoners.
"The time has come for the European Union to step forward," Luise Amado, Portugal's minister of state and foreign affairs, said in December. "As a matter of principle and coherence, we should send a clear signal of our willingness to help the U.S. government in that regard, namely through the resettlement of detainees."
Don't Miss
Amado urged fellow EU member nations to accept inmates not considered security risks as a way to help close Guantanamo.
The U.S. State Department told CNN it has been in touch with "dozens" of countries for years about resettling detainees eligible for transfer or release. It renewed those requests to a number of countries in recent months as part of ongoing efforts, said Gordon Duguid, deputy press secretary at the State Department.
The German government acknowledged the difficult issues facing freed prisoners who neither want to remain in the United States nor are able to return to their home countries for safety reasons. It pledged in November to hold "intensive talks" with the Obama administration on taking in detainees but made no promises -- and, like Portugal, it urged common EU action.
"As the first step, it is necessary that the new U.S. administration clarifies the circumstances of closure of Guantanamo and the legality for dealing with then-former detainees," the German Foreign Ministry said in a statement. "The German government sees no need to take immediate action, but we're examining the matter. We need to consider all legal aspects, plus the issues to be discussed amongst EU nations."
The question of resettling freed prisoners is a thorny one in any discussions about closing down the Guantanamo facility, opened at a U.S. naval base in Cuba in 2002 to house prisoners from Afghanistan.
Offers from other nations to take in suspects would go a long way toward resolving the issue, said Tomas Valasek, director of foreign policy and defense at the London-based Center for European Reform.
"The Portuguese initiative neatly allows the U.S. to tie up the loose ends," Valasek told Time magazine last month. "It's brilliant: It allows the U.S. to do something it had always wanted it to do. It also makes the EU look proactive, showing it is not just waiting for the Obama administration to come in and set the pace."
Britain has already accepted a handful of Guantanamo detainees but said it hasn't been asked to take in any more. All nine British nationals held at the camp returned to Britain in 2004 and 2005, the Foreign Office said, and four former British residents returned in 2007.
Britain is pressing for the release of two remaining former British residents, Binyam Mohammed and Shakar Aamer, and the Foreign Office said it wants to bring them back.
"If asked about whether we're prepared to take others: We haven't been asked," the Foreign Office said in a statement Thursday.
The Times newspaper in Britain reported Thursday the Bush administration sent Britain and other European allies a list of detainees cleared for release by the U.S. military, who face persecution if returned to their home countries and need to be rehoused. It also reported the U.S. State Department has asked about 100 countries for help in closing the jail.
E-mail to a friend

CNN's Charley Keyes in Washington contributed to this report.
All About Guantanamo Bay • Australia