MEXICO CITY, Mexico (CNN) -- The discovery of a man's bullet-riddled body this week in Ciudad Juarez added grim proof that drug-fueled violence is continuing in Mexico where it left off last year -- with more slayings and mutilated corpses dumped in out-of-the-way places.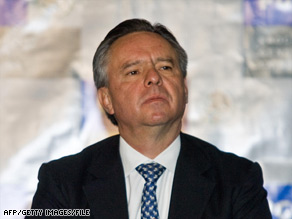 Mexican Attorney General Eduardo Medina Mora says there were nearly 5,400 organized-crime killings in 2008.
Seven other killings had been reported in the state of Chihuahua this year before Monday's grim finding.
Mexico tallied around 5,400 slayings in 2008, more than double the 2,477 reported in 2007, officials said.
Many of those killings occurred in the state of Chihuahua and its largest city, Ciudad Juarez, along the U.S. border. The area is a major killing field as drug cartels battle for turf, and Mexican authorities and the cartels fight each other.
The corpse found Monday had been dumped in a blue garbage barrel with a green poster-size note taped to the outside that said: "This will happen to those who charge quotas in the name of La Linea," said LaPolaka.com, a news Web site devoted to Ciudad Juarez, Chihuahua state and the U.S. border city of El Paso, Texas.
The Web site carried a photo that showed the barrel and note along with a hooded and masked police official.
The Juarez drug cartel is commonly known as "La Linea." There were news reports last summer that the cartel had posted a message on YouTube.com telling prominent families and businesses in Ciudad Juarez that they would have to pay a "quota" for protection.
Don't Miss
A search of YouTube shows several entries under "La Linea de Juarez."
The daily Ciudad Juarez newspaper, El Diario, also reported Monday's grisly discovery.
Three bodies were found over the weekend in the city of Chihuahua, the newspaper said, including the charred remains of a woman found floating in a canal.
Another Ciudad Juarez newspaper, El Mundo de Hoy, also reported the woman's death, saying she had suffered wounds to her head, ear and left wrist. Officials said she was between 25 and 30, El Mundo de Hoy said.
A man's body also found this weekend had been decapitated and was without legs, El Diario said. He was identified as a 30-year-old natural gas delivery worker who had been reported missing a week earlier along with his truck and cargo of 30 gas cylinders. Police said they found the truck nearby a short while later but the cargo was missing.
The third body found over the weekend belonged to a man but was badly decomposed, El Diario said.
Another four slayings were reported in the area last week.
Organized-crime killings reached record levels in Mexico last year. Attorney General Eduardo Medina Mora announced the figure of nearly 5,400 in early December.
During Christmas week, eight bodies stuffed in black garbage bags were found in the southeastern state of Chiapas, near the Guatemalan border. That discovery came two days after nine decapitated bodies and severed heads were found in the state of Guerrero.
The bodies found in Guerrero belonged to eight soldiers and one former high-ranking police officer, officials said, while three of the victims in Chiapas were identified as local merchants running illicit trade across the border with Guatemala.
Five of the Chiapas victims were strangled, and three were shot, officials said. There were signs of torture.
Drug cartels fighting off rival traffickers, police and troops increasingly have started using decapitations as a tactic.
In another recent instance, the headless bodies of 12 men were found in the state of Yucatan in August.
E-mail to a friend

All About Mexico • Drug Trafficking • Chiapas • YouTube Inc.