(CNN) -- Two girls died in a landslide Thursday triggered by a 6.1-magnitude earthquake that struck near Costa Rica's capital of San Jose, the National Emergency Commission of Costa Rica said.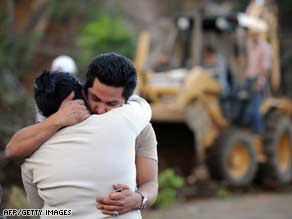 Relatives of two girls who died Thursday in a quake in Costa Rica mourn their deaths.
The girls -- a seven year old and a nine year old -- died after the landslide destroyed their home in Fraijanes in the country's Central Valley, emergency officials said.
The U.S. Geological Survey -- which initially estimated the earthquake to be of a 6.2 magnitude -- said the tremor occurred some 20 miles (32 kilometers) from San Jose at a depth of 22 miles (35 kilometers).
The Volcanological and Seismological Observatory of Costa Rica told CNN that the tremor's epicenter was 10 kilometers east of the Poas Volcano, Costa Rica's most-visited national park.
More than 1,000 tourists were stranded near Vara Blanca, a town between San Jose and the volcano, according to Channel 7 Telenoticias.
Several aftershocks -- some of a 4.0 magnitude -- have been reported and seismologists warned of other possible earthquakes in the hours to come.
"I have been sitting here watching my monitors and we have had more than 600 aftershocks in the past three hours," said Victor Gonzalez, a seismologist with the observatory.
Gonzalez said the Poas volcano had low activity.
"This earthquake is not associated with any volcanic activities but with the existing tectonic faults," he said.
The National Emergency Commission declared a red alert in the greater San Jose area.
E-mail to a friend

All About Earthquakes • U.S. Geological Survey