(CNN) -- The number of people killed from an earthquake in Costa Rica rose to 34 on Saturday, a government official said.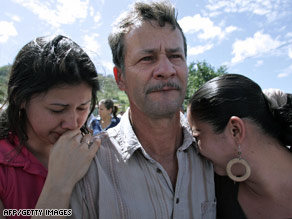 Rigoberto Vargas weeps with his daughters for his missing son on Saturday in San Miguel di Sarapiqui.
Another 64 people were listed as missing two days after the 6.1-magnitude earthquake shook north-central Costa Rica, the official said.
Emergency personnel continued to search for victims affected by the quake, according to Ministry of Infrastructure spokeswoman Silvia Chaves.
Rescuers reached 200 tourists who had been stranded in a hotel in Varablanca, and they were taken to safety, she said.
Survivors described Thursday's quake, which was centered about 20 miles north-northwest of the capital city of San Jose, as sudden and brutal. Landslides, tumbling rocks and collapsed buildings caused widespread devastation.
"I saw how the Earth moved and how it took my family -- my aunt, my cousin and her babies," Miguel Angel Marin told CNN affiliate Teletica TV. "It was very hard because I wanted to save them but I couldn't."
Don't Miss
On Friday, the U.S. government dispatched a team of 34 U.S. military personnel and four helicopters from Honduras-based Joint Task Force-Bravo to Costa Rica to assist.
More than 1,200 people were stranded, without a way to get out of towns or homes, Red Cross official Milton Chaverri said. Another 1,000 people were living in shelters, he said. iReport.com: Are you there? Send photos, video
The remote area near Alajuela, where the quake hit strongest, is difficult to reach, and officials said they were having to rely on helicopters for medical evacuations and to airlift supplies.
Randall Picado, a government rescue official, said many residents were without water and other necessities.
About 400 volunteers and Red Cross personnel were giving aid in 15 communities, Chaverri said.
The temblor was felt throughout Costa Rica and in southern and central Nicaragua, the U.S. Geological Survey reported on its Web site.
About 2,000 aftershocks have been felt in San Jose, the capital, and other cities throughout the nation, Red Cross spokeswoman Vilca said.
The Geological Survey placed the earthquake's epicenter at 20 miles (32 kilometers) north-northwest of San Jose at a depth of 2.8 miles (4.5 kilometers).
E-mail to a friend

CNN's Maria Callejas contributed to this report.
All About Earthquakes • U.S. Geological Survey • Costa Rica